I originally published this blog post on the Chicago Parent website where I am a regular contributor
One of my most favorite times of the year is when Christmas is approaching.
On the other hand, there are instances when we go too far in our efforts to make Christmas unique and, well, Christmassy.
Consequently, I compiled a short list of activities that I hoped my family would enjoy doing together throughout the winter holiday season.
Due to the fact that my husband works every Saturday, I have decided that during the month of December, my family and I will spend each Sunday engaging in an activity that is unconventional in relation to Christmas and the holiday spirit. This decision was made because I value the time we spend together as a family very highly.
Here is my December bucket list, which nearly got changed to my December lost bucket list since auto-correct made a mistake.
However, I absolutely go by that name today.
---
1) Visit a reindeer farm
I know this sounds ridiculous, but the truth is that I didn't even know there were reindeer farms until maybe a year ago. I had the impression that reindeer were only found in the far north, close to the Arctic Circle. However, it would appear that Illinois is ground zero for all things related to reindeer.
There are two reindeer farms within a two-hour radius of our home that I found online, and there is one that isn't public but I heard about it through the grapevine from Illinois friends on Facebook that you can get into with a secret handshake. AGAIN, ILLINOIS HAS A LARGE NUMBER OF REINDEER.
I had the idea that it could be great to take the kids to a real reindeer farm and let them view the animals.
Thirteen-year-old: "You've got to be kidding me?"
Five-year-old: ARE YOU KIDDING ME??!?!?
2) Go into the city. As in Chicago.
When you live in the suburbs or areas around Chicago, you only have to say, "I am going to the city" and everyone knows what you are talking about.
Rockford!
Just kidding.
Chicago.
It is the largest city around these parts, and my favorite time of year to be downtown is Christmas time.
---
We have several places we like to take the kids:
– Marshall Fields (aka Macy's) on State Street. I don't do well with change.
– Michigan Avenue to see the lights on the trees.
– Garret's Popcorn. Because popcorn!
-John Hancock building. My husband told me he loved me at Christmastime, on top of this building. To the horror of our children, we like to take them to the observation deck and act out that fateful night 11 years ago.
– Pizano's for lunch or dinner. Every time we go to the city for Christmas, we ALWAYS, ALWAYS say, "Let's eat at Pizano's!" But then we always, always, always end up eating at the McDonald's under the El on Wabash. IT WILL HAPPEN THIS YEAR. Or I'll have a huge tantrum in the lobby of the McDonald's on Wabash under the El. Which could also be fun.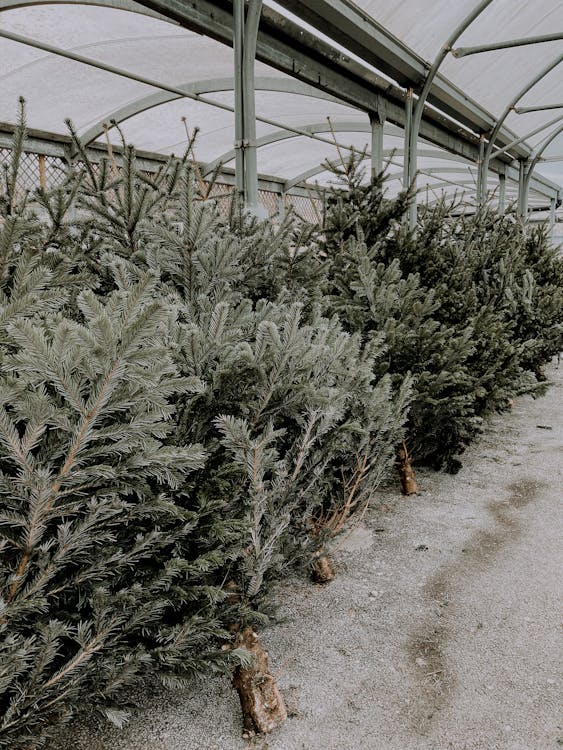 3) Cut down our own tree
Maybe.
Possibly.
Probably not.
I hear these people talking about how they get in their family truckster, put on their down vests and flannel, grab a Starbucks, and head to the "country" (the northern suburbs) to find a tree and visit a reindeer farm on their way back home.
And it sounds so magical!
I want a flannel shirt!
I want the Starbucks!
I want an actual tree!
---
But inevitably, this is how it would go in our household:
– Our five-year-old decides that this is the morning she wants to stop wearing pants.
– Meanwhile, our 13-year-old decides not to wear a coat because no one else in her class does. She knows the exact temperature at the tree farm, and she doesn't think it will be cold enough to wear a coat.
– My husband needs to stop at McDonald's because he needs a Coke to stop the stabbing pain behind his eyes. In order to get through the drive to Rockford to cut down a tree and see these "deer that we can see from our backyard."
– Our five-year-old decides she wants a hash brown and chocolate milk while we're in the drive-thru.
– The 13-year-old then decides she wants a breakfast sandwich. And cinnamon rolls. Plus a big glass of orange juice.
-Of course, this makes the five-year-old change her mind about what she wants.
By the way, these foods are usually not allowed in the car, but this McDonald's has a PLAYLAND, and we all know how we feel about PLAYLANDS.
-Within 30 minutes, we are nowhere near the tree/reindeer farm, and the backseat smells like a mix of fast food, farts, and socks. If frustration had a scent, this would be it.
-After 45 minutes, the five-year-old has to throw up and the 13-year-old has to pee.
– After three hours, we get to our destination. The 13-year-old is "freezing, Mommmm" because she doesn't have a coat. AND since she ruined her sweatshirt with orange juice, she is now wearing a tank top. With a hole in it. In December.
-The five-year-old ate her whole meal off of her outfit that was stained with vomit, so she is, of course, completely butt-naked.
-I don't have any whimsical flannel, so I'm wearing my "mom uniform" of too-tight jeans with the first button undone so I can breathe and my 10-year-old winter jacket because we never go to Christmas tree/reindeer farms to begin with. Which I am now giving to my teenager, who didn't need a winter coat.
So in order to get that "pine tree scent" this year, I bought a pine-scented candle at the grocery store and we watched Rudolph on DVD.
Why the hell did we leave the house in the first place?