When Anna (now 17) was little, I would put her in her stroller and we would go for daily walks, weather permitting. Sometimes we would go to the park just down the street or maybe pop into a friend's house which was a few houses down. Many times we would head to the Dollar General a little farther down the road in the town we lived. Every time she would see the store sign she would squeal, "BOOKS! BOOOOKS!!" because we would always pick up a new book before leaving the store.
My children loved books even before they could learn to read because books equaled comfort. Cereal also equaled comfort as well; on many walks, we would always have a small sandwich bag of Kellogg's Froot Loops® to munch on along the way; Kellogg's Rice Krispies® and a bit of milk was always a great bedtime snack for the girls and for the adults too.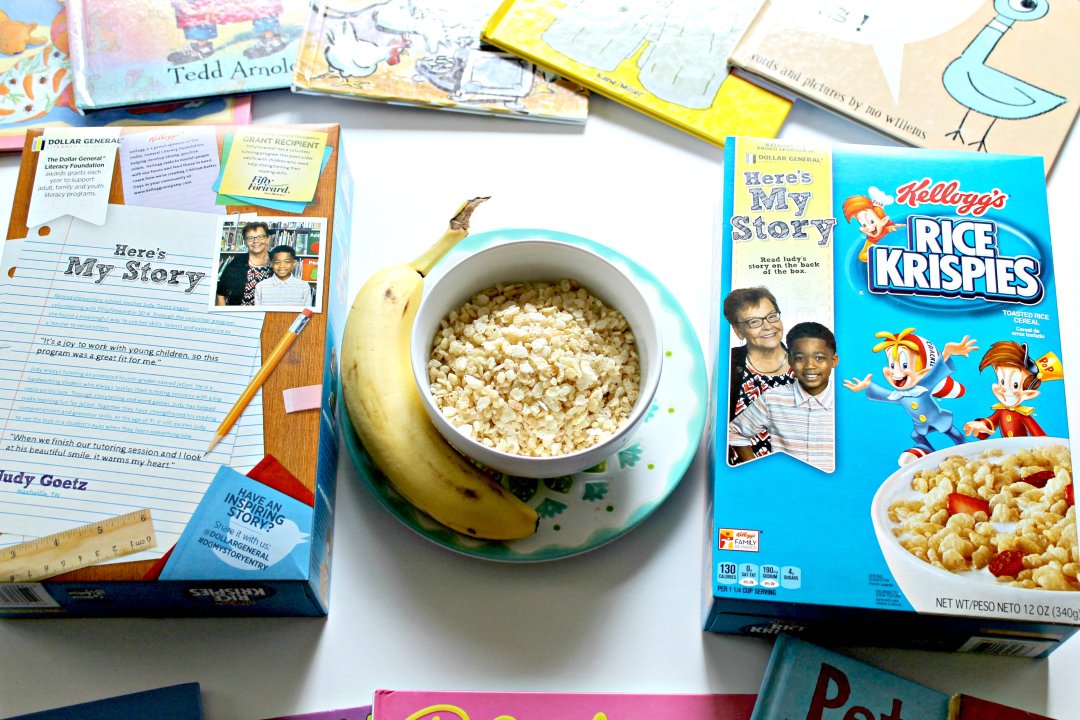 I still shop at that same Dollar General and every time I do, I am transported to BOOKS! and cereal, so the partnership of Kellogg's and Dollar General with a literacy program made complete sense to me.
Kellogg's is proud to sponsor the Dollar General Literacy Foundation, a 20-year initiative that helps people with skills such as learning to read, grasping the English language and preparing for high school equivalency tests. In those 20 years, Dollar General Corporation has awarded over $140 million to non-profit organizations, schools and over 9 million people have benefited from this initiative as well.
So to honor this amazing program, I am sharing Anna and Ella's (and my) top ten favorite children's books!
Anna's favorites
1-Click Clack Moo, Cows That Type by Doreen Cronin 
2- The Gas We Pass (The Story of Farts) by Shinta Cho
3-Don't Let the Pigeon Drive the Bus! by Mo Willems
4- Flora's Blanket by Deb Gliori 
5- Parts by Tedd Arnold
Ella's Favorites
6- Ella the Elegant Elephant by Carmela and Steven D'Amico
7- Starring Lucille by Kathryn Lasky 
8- Pinkalicious by Elizabeth and Victoria Kann 
9- No, David! by David Shannon
10- Pete the Cat, Rocking in My School Shoes by Eric Litwin 
Quite honestly, I could eat cereal for dessert, and my girls are the same way thanks to my influence. When I come home from the store with Kellogg's Bite-Sized Mini Wheats® you'd think I had chocolate ice cream in my hands. We take cereal very seriously around here. In fact, one of Ella's favorite desserts is Kellogg's Frosted Flakes® and yogurt mixed together in place of milk.
What are your favorite children's books? 
This shop has been compensated by Collective Bias, Inc. and its advertiser. All opinions are mine alone.