I don't know about you, but with everything that is going on this holiday season, the last thing I think about is the costs that incur with entertaining and creating a festive table. With shopping, church events, parties, cleaning, work, and the usual kids' activities, it can be difficult to make the time or money to be creative when it comes to entertaining guests or dressing up the table.
I love Dollar General for so many things (I mentioned my love of their children's books and cereal last month), but it is at the holidays that I love them the most. The decorations, candy, books (I didn't cry in the aisle this time, I swear), and the products that help me to create a cool home without dropping an entire paycheck.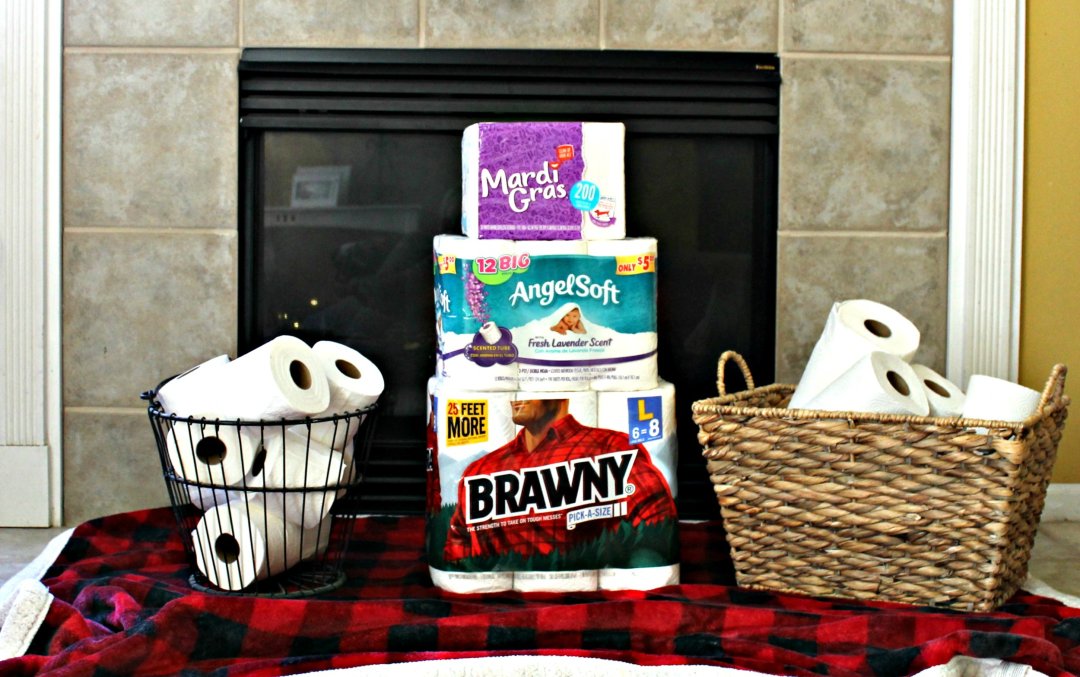 If creating a holiday table that is beautiful seems impossible for you to do or getting ready to entertain guests seems like it will cost a fortune, I have you covered! Here are my tips to help save you money and sanity this holiday season.
If you have issues with serving holiday meals on paper plates, get over that quick. There are so many choices out there and Dollar General has so many great options. Why are you spending time and money buying china, washing said china, making sure said china doesn't chip? If you have children, serving your holiday meals on paper plates is ideal and will save you time and money in the long run. There is nothing like sitting at the table after a big meal and realizing that you won't have to wash any dishes afterward. THAT is a Christmas gift in and of itself.
Let's talk napkins. Can I tell you a secret? Did you know that if you use paper napkins for a holiday meal, no one will care? Did you also know that you don't have to wash, dry, iron or style a paper napkin? Did you further know that you can recycle napkins if saving the Earth is your thing?
Mardi Gras® paper napkins are my personal favorite because they are strong enough for my messy eaters but also come in great prints as well as solids. I prefer white, so let's stick with that for my table.
Take your paper napkin and add something special to it to create a dressy table. Yes, you can create a dressy table with a paper napkin (that you won't have to wash, dry, iron or style!).
I chose an adorable pine cone ornament I found at Dollar General literally across the aisle from the paper plates! Only one dollar for this napkin holder that your guest can take home with them to put on their tree.
See that table setting up there? All Dollar General. The charger, the napkins, the ornaments.
Here's a fun centerpiece idea: take some small ornaments and add them to a dish you already have in the house. Plop it in the center of your table and voila! Better than a paper Santa!
Well, a little better.
Okay, we are going to talk about something a little personal.
I am sure you're like my family and go through a TON of toilet paper during the holiday season.
I don't want to spend the Christmas ham budget on toilet paper and I think I am not alone on that concept. And yes, we have a Christmas ham budget. Don't judge.
My favorite toilet paper is Angel Soft® because it is so affordable and it is soft, just like the name says. Let me tell you, as a person who has seen her share of inexpensive toilet paper when you find one that is soft and doesn't break apart? You never buy anything else again.
Is it becoming awkward yet?
Okay good.
Anyway, there is nothing worse than going to the bathroom in someone's home and noticing there is no more toilet paper on the roll because Uncle Henry didn't refill it after using the facilities before you.
Way to go Uncle Henry.
But that is most likely because he didn't know where the extra toilet paper was.
Don't create an uncomfortable scenario where Uncle Henry needs to pull you away from the buffet to ask where the toilet paper is.
Create a toilet paper basket in your bathroom for all that extra Angel Soft so that Uncle Henry and Aunt Meredith don't have to ask the uncomfortable questions.
Tip– get the Angel Soft with Fresh Lavender Scent, It smells AMAZING, isn't overpowering and you won't need air freshener in your bathroom when you have it sitting in your basket!
Now let's talk about paper towels. Do you have a roll by the kitchen sink?
Why not??
I have had a roll by my kitchen sink since I lived alone for the first time.
Here is why-
it doesn't breed bacteria like a dish towel or rag
it costs a lot less than a dish towel or rag
you don't have to wash or iron a paper towel
it can be used to dry hands, clean the sink, windows or table, wipe faces
My personal paper towel favorite is and always has been Brawny®, especially the Pick-a-Size because I never really need a massive piece of paper, so this cuts down on waste. Especially with kids who when drying hands pull ALL OF THE ROLL off.
Tip– use a paper towel in the bathroom as well! If you have counter space in your bathroom, add a cute paper towel holder next to your soap dispenser! There is nothing like going to dry your hands on a towel during a holiday party to find it is already damp. Like, REALLY damp. You know what that damp feeling is? Everyone who used the bathroom before you and their filthy hands. You are never going to go to the bathroom during a holiday party again, are you?
Paper towel storage can be hard especially during the holidays when the house is filled to capacity with things like food, people and damp towels waiting to be put in your washing machine.
I stock up on our Brawny paper towels and store them in a basket above our laundry closet. That way I can buy more and not have to worry about where I stored them. There is nothing quite like finding an extra 12-pack of paper towels come January in the crawlspace.
For a limited time, when you stock up on participating Georgia-Pacific products at Dollar General, you save $3 on three products! That is a great deal considering the savings you are already getting, so head to your local Dollar General now!
Not sure where your local Dollar General is located? Head here to find your closest store and head out to shop today.
Did any of these tips help you with your holiday decorating this season? Dollar General is sharing some other amazing tips from bloggers as well as some holiday inspiration ideas!
What do you do to save money preparing for holiday guests? Share them in the comments! 
Disclosure: This shop has been compensated by Collective Bias, Inc. and its advertiser. All opinions are mine alone.