A few weeks ago, I was in my parent's basement looking through boxes while helping them to decorate for the holidays. I happened to pass by a box with Oprah's 20th Anniversary DVD set sticking out and I may have squealed. Okay, did squeal. Because if you don't already know this about me, I love Oprah Winfrey. I got home that night and pounded out two discs, then watched the rest one weekend morning with my husband and my nine-year-old daughter (who now loves Oprah too).
Oprah's generosity is what I love most and when the famed Favorite Things show would come around each year, I would make a note and be sure to tape-record it so as not to miss one of my favorite episodes of the year. For those not familiar, the Favorite Things show was when Oprah would give the entire audience all of her most favorite items she used and loved in her own life.
I have written about my favorite things in many posts over the years ala Oprah; I have shared my family and friends' favorite things; I even created a One Word Holiday series that centered around Oprah and her generosity.
I love the idea of creating a favorite things gift for any special occasion but at Christmas is when I love to make even a small dream come true for my loved ones. My oldest daughter is heading to college next fall and this Christmas it seems fitting to make a fun favorite things gift for her as it is a big year for her.
So in order to create a Favorite Things gift, you need to have something to hold your favorite things together. A few years ago I came up with the idea that Santa will only bring his gifts in a stocking. I bought two large (and I mean LARGE) stockings and told our youngest daughter Ella (who still believes) that Santa said he will bring as many gifts as will fit into the stocking. This worked out perfectly because then I didn't have to worry about gifts under the tree from Santa in addition to gifts from us as well as stocking stuffers. That is way too much thinking, way too much work and way too much money.
The stockings are in a storage closet and only come out and hang on the mantle after the kids are in bed on Christmas Eve! In the stockings go fun things that I know they love and that only Santa would think to bring and since it was Anna's last Christmas before college, I wanted her Santa stocking to be extra special.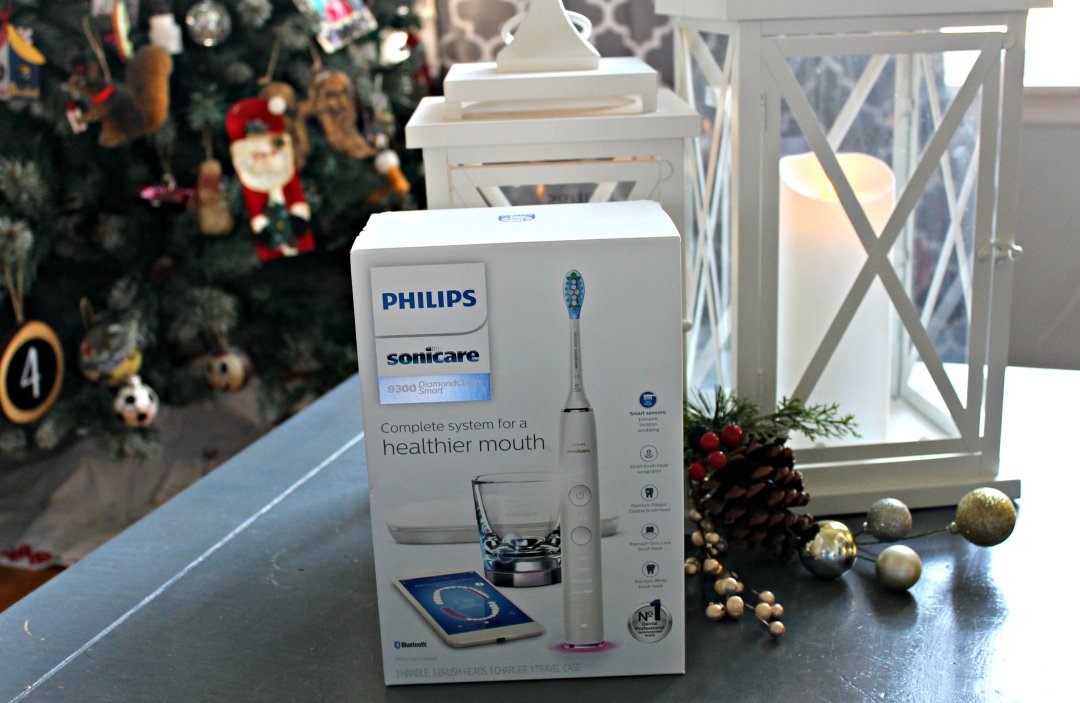 The first thing I wanted to include in her Favorite Things stocking was the Philips Sonicare DiamondClean Smart 9300 Rechargeable Toothbrush. Anna has always loved electric toothbrushes in the past but others would always run out of batteries and were hard to maintain. I knew that this toothbrush needed to be in her stocking. The Philips Sonicare DiamondClean Smart 9500 was featured on Oprah's Favorite Things List 2017, so I was excited to get to try a DiamondClean Smart for my daughter!
This toothbrush is Philips's best ever as it cleans your entire mouth, including your gums and tongue. It has a smart brush that automatically senses what mode and intensity to use while cleaning and there is even a Sonicare app that you can connect with to get personalized feedback!
It's also rechargeable which is perfect for a college student on the go.
Since the toothbrush was the big gift, I had so much fun adding in little extras to her stocking that she would appreciate.
 One Line a Day journal (love this item and have been using one since 2011).
Favorite socks.
Favorite chocolates.
A bag to remember where you began.
Add all of the above to the stocking.
And you have yourself a Favorite Things gift that only Santa could dream up!
Let this be the Christmas you can be Oprah to your friends and family and head to Amazon to purchase your very own Philips Sonicare DiamondClean!
Want to learn more about the Philips Sonicare DiamondClean Smart 9300 Rechargeable Toothbrush?  Head to their website to learn everything you need to know!
What would you want in your Favorite Things stocking? Let me know in the comments! 
This shop has been compensated by Collective Bias, Inc. and its advertiser. The product was provided by the client for review; however, all opinions are mine alone.