No one likes to talk about lice, and to be honest, as I am writing this my head is beginning to itch.
Yours is too, probably.
But it needs to be discussed because sooner or later it happens to the best of us.
Back to school is among us, and one of the most dreaded letters is going to hit your kitchen counter: LICE NOTICE. COMING TO A THEATER NEAR YOU.
Sorry, lice humor.
You need to be prepared so when that letter comes home, and it will come home, you can arm yourself with the tools to help prevent an outbreak in your home.
Since my oldest (now off at college) was in fifth grade, I have had this little green bin in my upstairs linen closet. Why? We had two outbreaks in two years and several close calls after, so instead of running to the store every single time we got a notice from the school, I created this handy lice prevention bin.
Our go-to for lice prevention has always been Nix® as it is what our pediatrician recommends. In fact, Nix Utra® is the #1 Pediatrician recommended brand in addition to being pesticide-free, and non-toxic.
So what does a lice prevention kit need to include?
1- a lice removal kit from Nix Ultra® which includes a nit comb (very important to both prevention and to rid of lice), lice removal solution, and lice control spray.
2- rubbing alcohol to clean your nit comb.
3- a basket or container to hold all of your products in.
4- you could also keep hair clips in here too as well. Hair clips help hold sections of hair together so you know where you left off when you are checking for nits or bugs.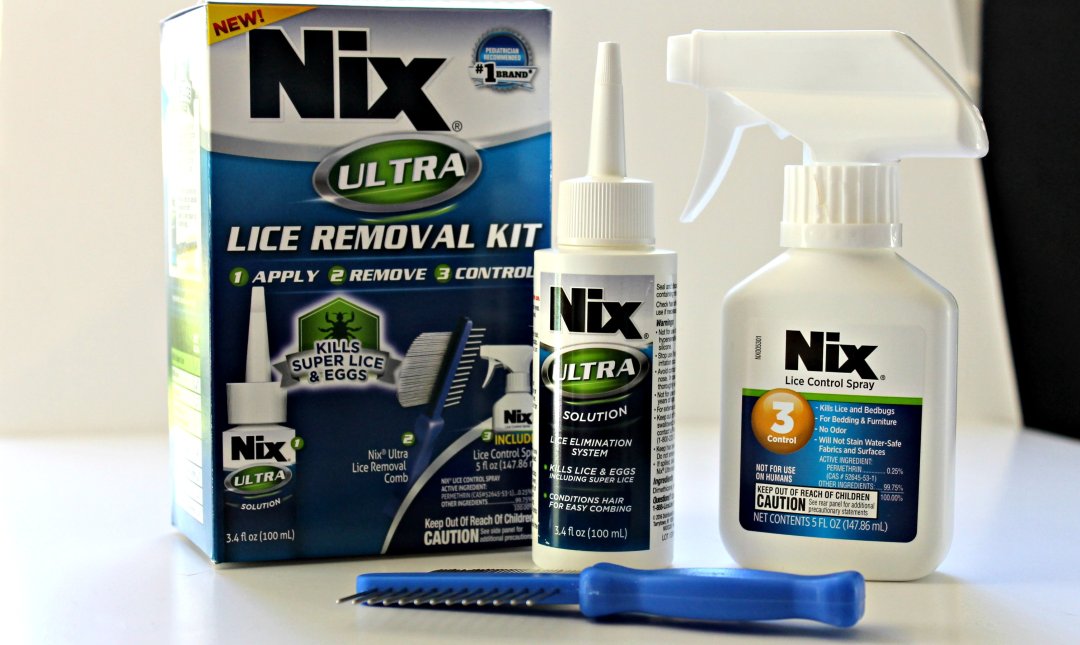 Click on the picture above to shop for your Nix Ultra® Lice Removal System right now! Also, keep reading for a money-saving coupon to help you get your lice prevention kit ready to go!
Lice prevention tips and tools
Take it from a mom who has been there, use the tools out there to help you avoid this outbreak. Super lice are a thing now, scary as it sounds, and those lice are resistant to treatments but thankfully, Nix Ultra® is the Superman of the lice treatment world with an effective one-stop lice solution that kills lice and eggs-even "super" lice. Psst, there's nothing "super" about them except for the fact that they won't go away unless you arm yourself with a leader like Nix Ultra®.
Use the Nix® lice control spray to help prevent the spread of nits and adult lice. Spray backpacks when they come home from school, clothing such as coats and sweatshirts that don't get washed after every wear, sofas, chairs, bedding, etc.. When you have a lice outbreak at school, you can't be too careful, so spray these things to keep them at bay.
Be a neat freak. During a lice outbreak, it's so important to vacuum daily, wash bedding in hot water (including pillows) regularly, and put stuffed animals into sealed plastic bags until the lice are gone for good. I had a nurse once tell us that lice can live on surfaces for two days, so even if they aren't on the head, they can still survive.
Don't let your kids share brushes, hair bows, or hair ties during a lice outbreak. Sharing hats or pillows are also a no-no, as well as sports helmets. Also, avoid trying on hats at stores or using any hair product testers on store shelves.
Go through your child's hair each night at bedtime with the nit comb during a lice outbreak (even if you just received a lice notice). I personally love it when anyone goes through my hair gently, so it can be a nice wind-down activity before bed. Don't know what you are looking for? Nix Ultra®is here to save the day! Head over to the handy

Lice Id tool

online to learn the difference between a nit and actual adult lice, where to look on the head for nits, and much more.
Lice are coming but is it an outbreak situation? School and camp aren't the only places where your child (or you) can pick up lice. Movie theaters, restaurants, transportation such as bus, plane or train. It's everywhere, so if you want to see if it's in your area, check out the

Lice Tracker

. It's never a bad thing to be overly cautious and take precautions when it comes to lice prevention, and this tool can help you in that regard. Can anyone say hoodie on the back of your seat at the movies? There's no shame in that game.
So where do you find lice preventative products in the store? Good question! I have always struggled with what section the lice products are in, so I have your back.
We find our Nix Ultra® in the Anti-Itch (makes sense, doesn't it?) section of our local Walgreens. But let's discuss the embarrassment factor because we all know it can be intimidating to think about buying lice products in the store. There are lots of options but this is why it is a great idea to buy these products before you need them to create a lice prevention kit! Ordering online from Walgreens and having them delivered can save some embarrassment but if you have a lice situation STAT, there is no time to do that. Just know that the majority of us have been there, and "get it".
But before you head out the door, print this money-saving coupon from Nix Ultra® for $3.00 off any Nix Ultra® product. The coupon doesn't expire until March of 2019 BUT if you print it, you will need to use the printed coupon within two weeks. So save the link to this blog post if you want to hold on to the coupon for later!
What are some of your lice prevention tips? Let me know in the comments!
This post has been compensated by Collective Bias, Inc. and its advertiser. All opinions are mine alone.