So in keeping with one of my promises for this "new" blog, I am doing more prompts, nonsensical writing, nothing of substance.
Not sure if this is a good thing for you but for me, it is kind of nice. Less expectation, less pressure, more time to write about things that mean absolutely nothing but might be kind of fun to read.
Today's prompt is- Five weird things you like
Weird thing I like #1- The smells of skunk
MY NAME IS KARI, AND I LOVE THE SMELL OF SKUNKS.
I do realize that the smell of weed (marijuana) can be very similar to the smell of skunk.
But I know the difference.
Not because I have lots of experience smelling weed but rather, I have lots of experience smelling skunk.
I grew up in rural Ohio and on warm country nights, the smell of skunk was pretty much expected.
Skunks like to skulk around at night where they aren't to be detected because they don't like people.
I FEEL YOU, SKUNKS.
Nighttime country driving is really hard.
No street lights to guide you for miles, curvy, winding roads of death, and 65 mph (minimum) speed limits do not make for skunk crossing-friendly roads.
Skunks then permeate the air with their secret weapon: odor they emit when scared or when hit by a car/truck/semi/bus going 65 on a dark, winding, country road.
But to me, there is nothing like that smell on a warm night.
OMG, I just realized that the smell I love is pretty much the smell of fear.
Or death.
What the hell does that say about me?
Moving on.
Weird thing I like #2- Ketchup on cottage cheese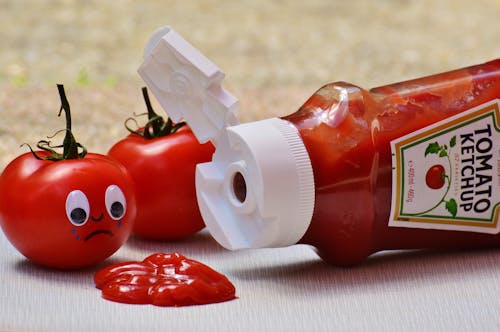 I like lots of weird food pairings: cheese and potato chips; french fries dipped in tartar sauce; watermelon with salt.
If you've never tried it, don't knock it!
I cannot eat even a bite of cottage cheese alone but add in some ketchup and I will eat an entire container.
There is really nothing else interesting to say about this.
Weird thing I like # 3- Capri pants
I am here to set the record straight on the Capri-pedal pusher-clam digger debate.
Who knew there was a debate?
Not anyone important.
Capri pants- end at the ankle bone
Pedal pushers- ends mid-calf
Clam diggers- ends at the knee
So the pants I like are really pedal pushers but I call them Capri pants because if I call them pedal pushers, I immediately sound like I am 80.
No matter, I do love my Capri pedal pants and you can't take them away from me no matter what the Queer Eye guys say.
The guy in the polka dot shirt says capris are a no-go.
I say polka dot shirts are a no-go.
Tomato, tomahto.
Weird thing I like #4- When I miss my grandma, I listen to Bruce Hornsby
Even though she probably had no idea who he was when she was alive.
But for some reason, his music makes me feel closer to her and I have no idea why.
Does anyone else have songs or music that just bring a person you miss, back to you?
I also crave listening to his music when it is a cool fall day.
I told you I was weird; there are no secrets here. 
Weird thing I like #5- The smell of chlorine/bleach
I love the smell of my house when it's towel laundry day. It actually makes me happy to do laundry. 
No, it doesn't but I do love the smell of bleach in my house.
I also love the smell of the indoor pool in a hotel because of the chlorine. 
Bleach makes me happy.
If Freud was here to figure it out, it might have something to do with my neat freak tendencies.
Or the pool.
Or it reminds me of being on vacation. 
Maye this winter, when things are bleak, I will just wash some white towels, put on some Jimmy Buffet, and douse myself in suntan lotion. 
What "weird" things do YOU like?
Please tell me.
I feel so exposed.