I love Instagram more than any other social media form. Maybe it's because it focuses on pictures rather than opinions or words but the vibe/aesthetic over there is calming for me and it feels much more authentic than Facebook.
Here are some accounts I love and I think you will too.
White House Black Shutters 
I have been following Ann Marie for close to ten years and I love everything about her.
She lives in the Chicago suburbs and we have yet to meet but that's because she is kinda busy (she has seven kids).
But you will love her gentle voice, her beautiful home, and her minimalist style.
I also spotted this adorable library bag (but in army green) in her home: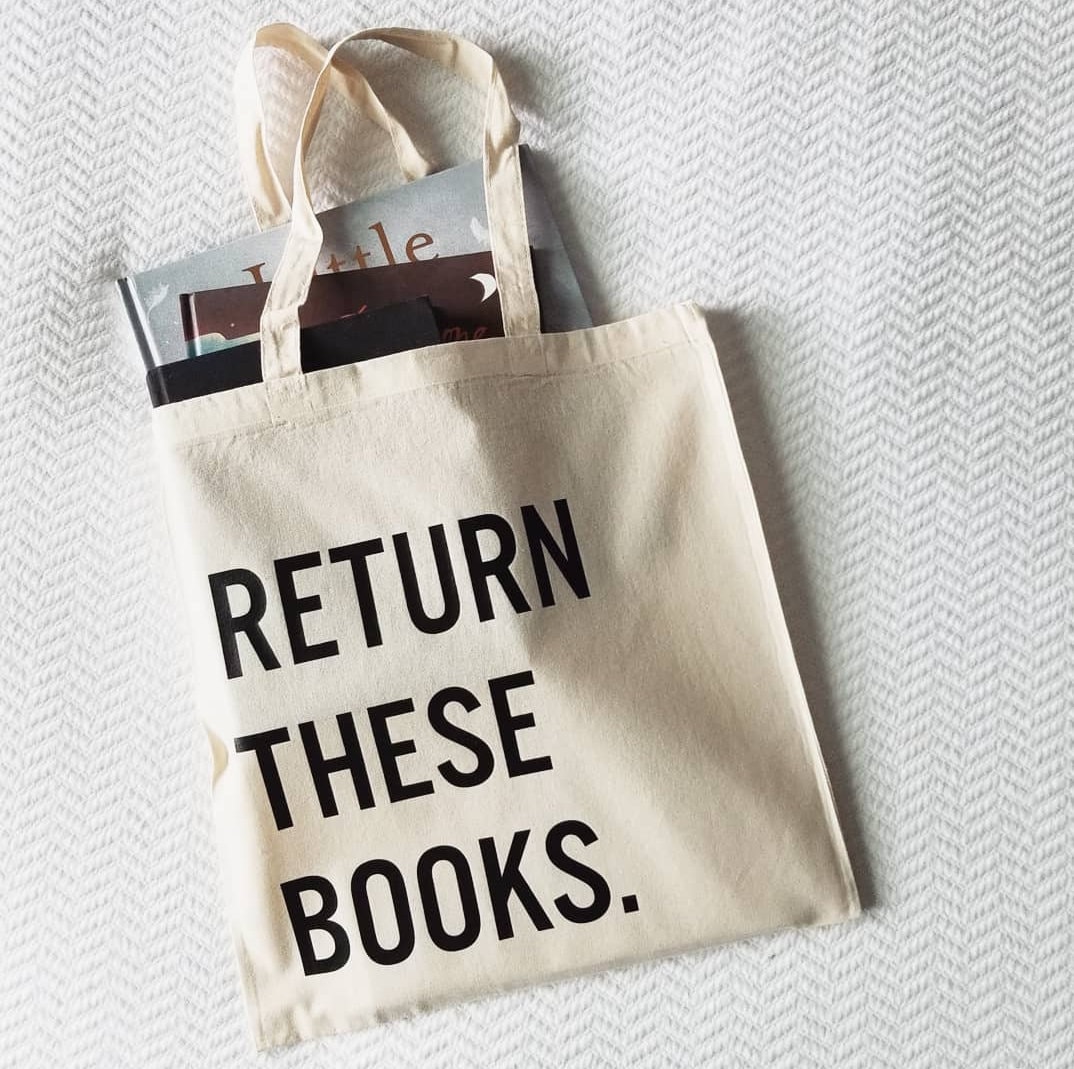 And that led me to the Instagram account of Autumn Rose and her online store, Matriarch Handmade.
Love her style.
I mean, a sign language "fuck off" tote?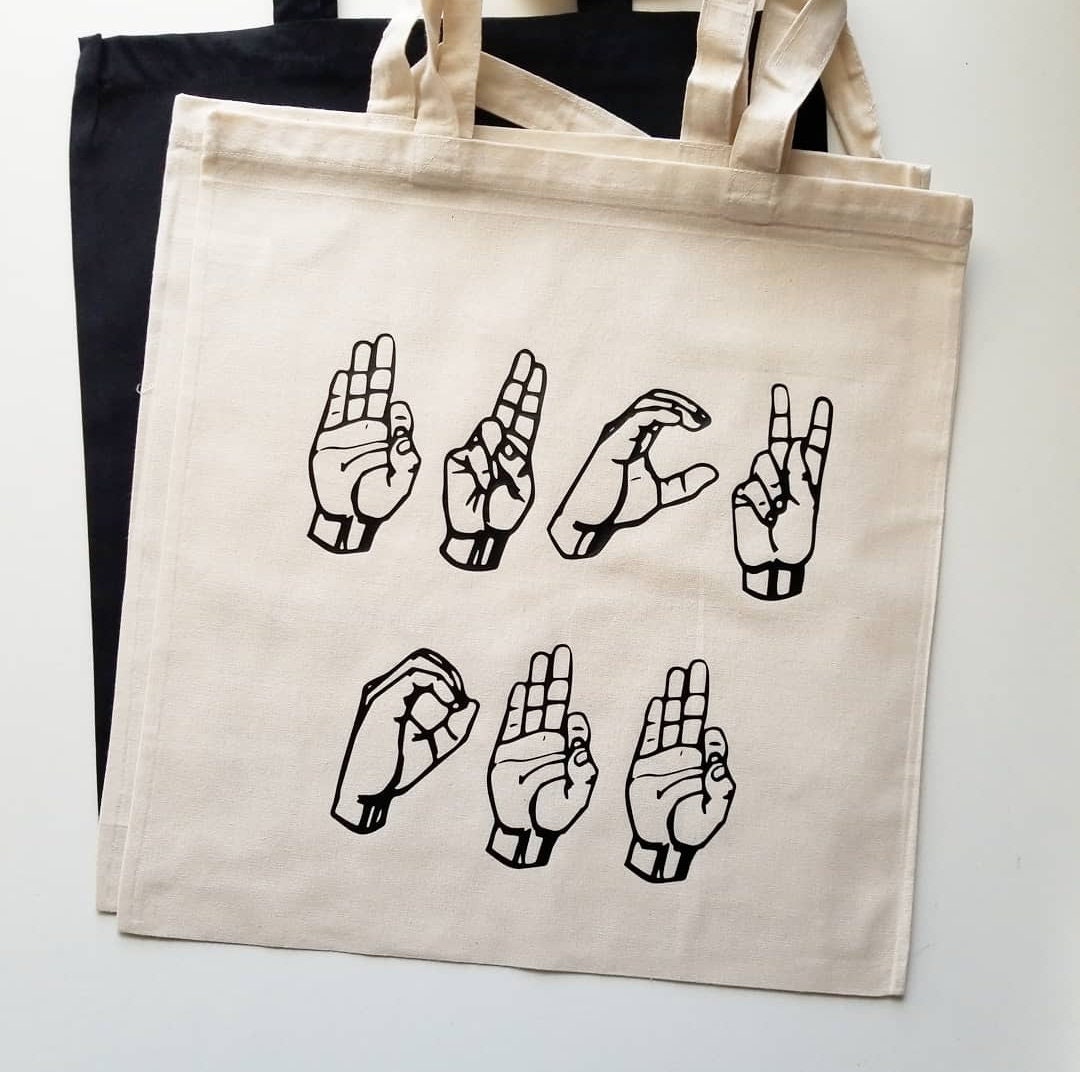 Who doesn't need this?
Kirsten Day 
I found this next person on Twitter and it led me down the hole to Instagram and that is where I fell in love with her.
She lives in LA, (which will come in handy when I need sunny day pictures in my feed in January) and I love her positive vibe which is very infectious. But the biggest cool thing about her?
She is Skipper's voice on Barbie Dream House Adventures.
I totally fangirl about stuff like this.
Ether and Opal 
So I love me The Real Housewives of every single city (except Potomac and Dallas) on Bravo. It is my #1 guilty pleasure and there is no shame in that game. Ether and Opal is an Etsy shop (based out of Chicago!) that sells items catering to sound bites from my favorite Housewives.
These will be completely lost on you if you don't watch. Head here to follow her on Instagram if you do.
I fangirl about this crap as well. If you do too, let me know in the comments because I am dying to get my hands on a post about it. 
Amandequin
If you love mannequins who live in everyday homes (and who the hell doesn't??), you're gonna love Amandequin. My sweet friend Andrea recently "adopted" Amandequin a few months ago and so now she has her own Instagram account, obvi.
I love my friends.
Please follow Amanda on Instagram so that Andrea will continue to post updates.
I think this account alone will get me through winter.
Word Porn 
Word Porn, which is Word PORM on Instagram, is a great account to follow for inspiring quotes.
The Big Blue House 
The Big Blue House is a vacation rental in the country outside of Nashville and I have no idea how I stumbled on her. But I love her style and especially all of the pictures of the rambling Tennessee countryside she shares.
You can click on the link to reserve your little piece of paradise, but it is pretty pricey to rent this house at $600 plus PER NIGHT but I feel like it would be a great place to stay with a large group so you could split the cost to make it much more affordable.
Like maybe a big ole' blog meetup. Me and 100 of my closest friends which would put it at just over $6 a night! Who's in?
The Blue Room Designs
Samantha has my dream job of interior design and "DIY assistance". I WANT TO BE A DIY ASSISTANT….or PROVIDE ASSISTANCE TO DIY!
Her style is exactly what I want my house to look like. She lives in an apartment in NYC and I love her life. I want to be Samantha when I grow up……
Kiss My Aster 
Amanda is quirky, funny, and kick ass. Her home is quirky, funny, and kick ass. And if you love any type of landscaping, she is your kick-ass helper.
Natasha Nicholes 
Speaking of gardening, I have a friend (and she is a real-life friend as well) who is doing something pretty spectacular in the city of Chicago.
Natasha has a massive urban garden within a city neighborhood and it is growing in size and in popularity. She runs the We Sow We Grow Project which creates a community with gardening and food education.
Head here to buy a tee-shirt and help with her initiative.
But she also blogs, homeschools, sews, cooks, and travels. And this is the thing: she does it all really well. She is a huge inspiration for me in many areas of my life and I am proud to call her a friend.
You can follow her at her We Sow We Grow Instagram page but also follow her personal/blog page as well.
Have any other Instagram accounts you just adore? Let me know about them in the comments!