Before I begin, I want to wish my Dad a Happy Birthday!
---
This month's post is in Tagalog, the Filipino language, to commemorate my friendship with Rebecca! This month marks 25 years since she and I started working in the same department at Kohl's.
Her friendship has been a constant in my life, and her love, loyalty, and kindness have shaped who I am today.
---
Ang Cure at hindi ako hindi nagsasalita tungkol sa mga meds
(The Cure and no, I am not talking about meds)
---
I was in my mid-forties when I became a fan of the band The Cure.
It came to a head while I was writing the screenplay because I would channel my adolescent angst through Pandora's New Wave channel, which features a lot of The Cure. By the way, saying The Cure in the middle of a sentence feels strange. It's similar to saying The Ohio State University.
I wasn't cool enough to pull off The Cure in the 80s, but I was much cooler in the 90s when I became a fan.
What band were you not cool enough for in high school?
---
Ang facebook ay mabuti para sa isang bagay
(Facebook is good for something)
I've mentioned many times before how I don't really like Facebook, but I love me some Facebook Marketplace.
If you don't know what Facebook Marketplace is, head here to read all about my obsession with it.
Because of Marketplace, I got a coffee table I love, a lamp that illuminates our entire basement, and just recently, a new chandelier for our dining room.
---
That chandelier cost us $15! It was originally from Birch Lane for $234. Long story short, we got it from a store that has been going out of business for three years.
But we wouldn't have found this thing of beauty if it weren't for Facebook and their marketplace.
So, I haven't been on Facebook much over the past month. It wasn't like I was taking a stand against anything other than for my inner peace. I have long had a love-hate-detest relationship with Facebook and, in fact, in 2011 left Facebook completely, deleting my account for a solid three months.
I went back eventually, but it never felt amazing to me. Am I over sharing? Am I being too needy? Why am I so worried when I don't get enough likes on a post?
I have searing anxiety and low self-esteem. Facebook is a terrible thing for that combination, so I took the app off of my phone six weeks ago.
I originally wanted to delete my account, but I do like Facebook for homeschool support groups, plus Anna said if I deleted the account, all of those great memories in Time Hop would go away not only for me but also for her and for Ella when she someday inevitably joins Facebook.
Oh, and don't forget Marketplace.
But since taking the app off of my phone, I have seen some improvements in my self-esteem. I am less anxious. I have more time and because of that; I am more present. I am not worried about every little thing. I am not as stressed. I don't do things or take pictures with Facebook in mind.
Before this, I was on Facebook hourly (sometimes every half hour) as a mindless impulse while waiting for an appointment, or when I wasn't able to sleep in the middle of the night, or even when I was on a car ride with a car full of people.
Now I am only on it once a day, only on my laptop, and I feel better.
P.S.- This change means I no longer share any of my blog posts to Facebook, so if you were following me there before, subscribe to get posts in your inbox (email me to ask how) or follow me on Twitter where I share my posts weekly. 
---
---
Nobyembre 1994
(November 1994)
The month that Rebecca and I began our friendship.
It doesn't seem like it's possible that it has been 25 years.
In honor of our friendship-a-versary, here are some things we were doing, eating, wearing, and listening to during that month.
Our President was Bill Clinton.
Boyz II Men had two number one songs this exact month: I'll Make Love to You and On Bended Knee.
Friends, Beverly Hills 90210, Seinfeld and Mad About You were the shows we were watching.
We didn't have cell phones, but some people had pagers (my brother was one of them), but if we wanted to get together, we had to call each other on a landline phone.
We didn't have DVR and actually had to watch shows as they aired or videotape them right before they aired.
We wore CK One perfume. I had a friend who got the Rachel cut this year, but I couldn't because I was growing out my hair for wedding #1, and Forrest Gump and The Lion King were two movies in the theaters.
As far as the style in 1994, I wore a lot of men's shoes I got on clearance at Old Navy (which was a BRAND NEW store that opened near where we lived), lots of floral dresses, and floppy hats were the rage as well.
As I was writing this, I had a memory pop into my head of this gold/ rust chenille sweater that Rebecca and I bought at Kohl's, and we paired them with black palazzo pants because Rebecca had recently watched the Meg Ryan/Andy Garcia movie When a Man Loves a Woman, and Meg wore that exact outfit and she looked stunning.
Also, I want it to be stated that I wanted to be Janeane Garofalo for all of 1994 and part of 1995.
I mean, COME ON.
Swooooooon.
Oh, and shoe boots were SO popular this year that I had two pairs; one for work and one for bar hopping.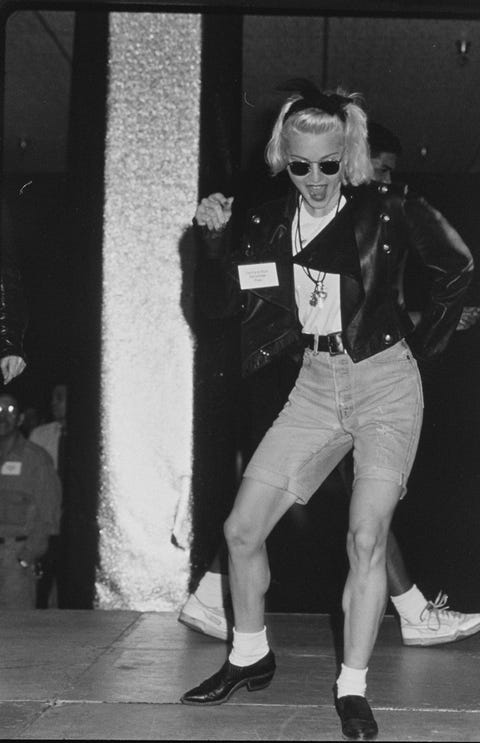 Oh hey, guess whose parents were having lots of sex this year? Justin Bieber, Halsey, Harry Styles, and Dakota Fanning.
I remember going to Ruby Tuesday restaurant a lot with Rebecca this year for some reason, and I always got this amazing grilled chicken salad.
Man, I miss Ruby Tuesday's.
I was really into chicken in 1994.
Also, Rebecca's egg rolls.
So many fun memories.
Happy Nobyembre, everyone!