I am doing better than I thought I would do during this pandemic. I have days that aren't so good but nothing near to what I thought I would be before this all began playing out and I honestly think our home is a huge part of why.
I appreciate all that my home has been doing for me lately. It has a mighty task right now, keeping all of us safe, keeping all of us entertained, warm, healthy, happy. But it also has the task of keeping my anxiety at an all-time low.
Last January, I mentioned how an episode of Marie Kondo made me cry when she essentially suggests thanking your home for all that it does for you including protecting you.
And boy, has it been protecting us as of the past five weeks.
I didn't always appreciate my home even though you might think I have with all of the DIY and decorating I have done over the years.
I was superficially appreciating it but not truly realizing all that our home was doing for our family. I have learned to be so much more grateful that we even have a home at all and trying hard not to complain about being inside of it all the time.
I haven't done one project on the inside of my home except for cleaning it. I did move around some furniture to suit our needs but other than that, I haven't been motivated. But this is not to say I don't utterly appreciate my home because it is in the last five weeks that I have appreciated all that this home represents more than I ever have.
Oh sweet home, I have never felt so grateful for you than right at this moment. Thank you. I love you so much.
---
I love routine. I even included it in my 100 Things I Love post. It is how I keep sanity in my corner of the world and with anxiety, a lot of my life is spent doing damage control. Trying to keep the scary thoughts out of my mind is easier when I have a routine. It is my way of controlling things in a very uncontrollable time.
When the girls were small, our routine was something that they embraced and almost craved. When there wasn't routine, they kind of went off the proverbial rails.
Routine is part of what is saving me right now during the stay at home orders, no surprise to anyone around my home. In fact, I have created a simple routine while in quarantine and didn't even realize I was doing so.
I am feeling the need to keep busy Monday through Friday from the time I wake up until around four in the afternoon. During this time, I keep music on downstairs, no television. This is not to say the girls' can't watch television but rather they watch it in my room or Anna watches on her laptop during the day after school is finished.
If they want to watch television downstairs, they are more than welcome to but they also have their little routines as well, which I love, so it works for them too.
I am unable to sleep in, unfortunately, no matter what time I go to bed. I thought I might be able to start sleeping in every morning but alas, my body won't let me. So after Mike leaves for work for the day, I write for several hours while the house sleeps. This has become one of the self-care routines that I absolutely love.
I usually exercise on the treadmill for an hour after or go for a walk with the dog or walk with Mike at a forest preserve near our home on his day off.
Then as the girls awaken, I make breakfasts, clean, put the dishes away, feed the animals, do laundry, homeschool and so on. I call my mom as I am drinking my afternoon coffee and then try to take Buddy for another afternoon walk before starting dinner and eating together at the end of the day followed by Mike and I binge-watching something distracting until bedtime.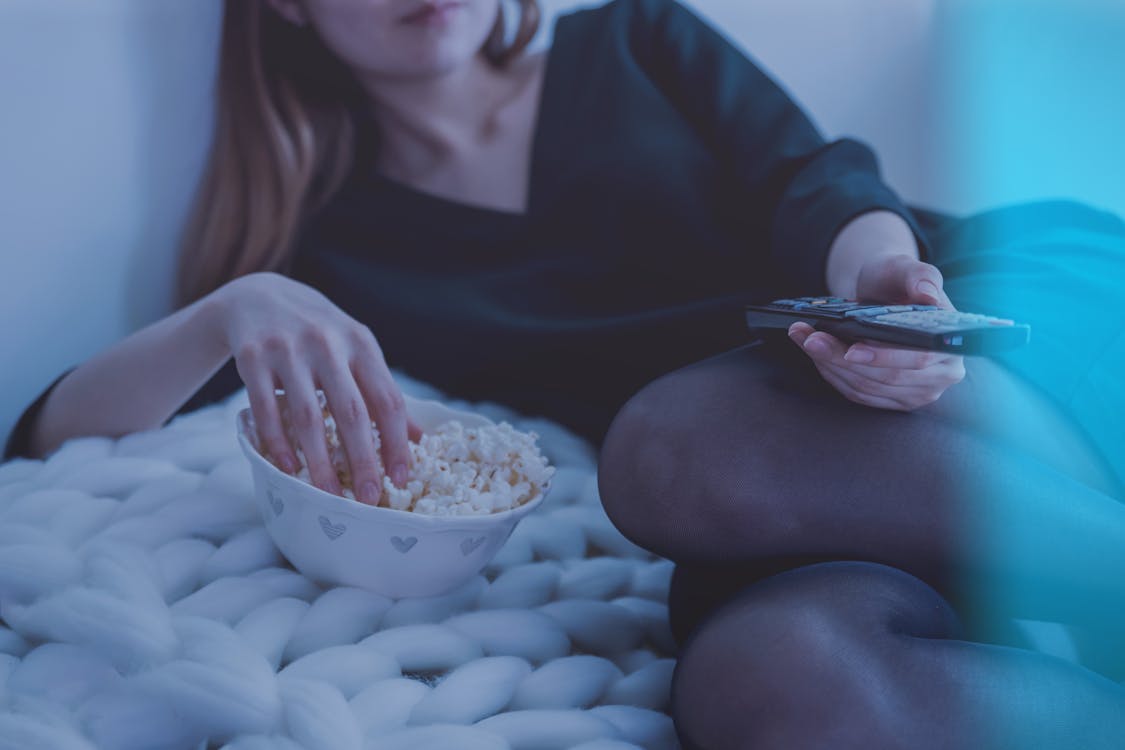 But on Saturdays, I have my "Luke's dark day". If you've never watched Gilmore Girls, you won't understand but essentially one of the characters (Luke) has a dark day every year on the anniversary of his dad's passing, November 30th.
My dark day is nothing of that sort but rather the one day a week during this lockdown where I let myself sit in my feelings, binge eat, binge watch and just lay around the entire day. No routine, no schedule, no nothing.  Mike works every Saturday and while it isn't normally my favorite day of the week in normal time, it is during this time that Saturdays just suck more than normal for me.
I don't shower on Saturdays, I don't eat anything healthy on Saturdays, I don't intermittent fast on Saturdays, I don't exercise on Saturdays, I don't cook on Saturdays.
I just. Don't.
At first, I felt a teeny bit guilty having this day. I felt like I should be mothering more or cleaning more or cooking more or doing something more. But with each new Saturday that came down the pike, I would get more and more excited about the prospect of being lazy. It became my little secret guilty pleasure that I would look forward to each week.
Within a pandemic, I was actually excited about something. Actually looking forward to something.
For the most part, we are all running on autopilot, doing our best to just survive and not really think about what is actually happening outside of our walls. That survival mode we are in has made certain things a lot harder than they used to be. Some days doing dishes or making dinner or even homeschooling seems insurmountable and I know I am not alone in feeling that way.
But I really do think auto-pilot is saving us all right now. We have adapted to our new routine and that's not necessarily a bad thing.
It has been while we've been locked inside that I began to realize that I might miss all of this a little. This not having anywhere to be, this not feeling guilty for not making dinner every night, this time in my home to feel safe and secure in one of the least safe and secure times of our lives.
I almost don't want to say it out loud, missing it. But I will miss it. The time I had both of my daughters just up the stairs, the time I got an extra couple of months with my oldest who will be out on her own before we all know it, the time I didn't feel guilty for not teaching Ella math for a solid two weeks, the time the four of us sat downstairs and watched YouTube videos about conspiracy theories while eating Doritos out of the bag. When making homemade cookies was the biggest excitement of the day or getting takeout was met with so much anticipation, it almost felt like Christmas.
There will be so many things I won't at all miss about this time of our life but I won't ever forget the good stuff.
And how all of it happened within the walls of our home.