This post was from my first year of blogging. Ellie was only two years old and Annie was only ten years old. We got a babysitter and felt so fancy heading into Chicago on a Friday night. 
Little big things. 
---
First published December 5, 2010
---
Last night, my husband and I went into the city for a little date night and it was so much fun. The lights, the shoppers, the music; Chicago is truly magical during the holidays.
We are so lucky to live close enough to the largest city in the Midwest so that we are able to just pop in and out rather than making a trip out of it and we never take that for granted.
Both of Mike's parents grew up on the north side of Chicago.
His grandparents came to the city from Ireland many years ago. All of the men on his dad's side of the family ended up being Chicago police officers. That is until his dad broke tradition and became a police officer in the Chicago suburbs.
Then Mike went and ruined the tradition altogether by going into sales.
Way. To. Go.
There is even a pub called, The River Shannon, in the Lincoln Park neighborhood with Mike's grandfather's picture up on the wall along with several other Chicago police officers of that time.
It's a tiny little place big on character that lets you bring your dogs inside. They also give out free hot dogs on Cubs game days.
Go, White Sox.
So there is that Chicago history.
Then there is our personal history with Chicago.
---
Long story never-short, we began our love story at the Taste Of Chicago in Grant Park in 1993.
Well, kind of.
We eventually ended up having our first date a few months later, at a White Sox game, in Chicago.
Then it went nowhere. Long story. Buy the book.
2020 note- how prophetic. 
Then we became friends.
But it finally went somewhere, nine years later. 
When he told me he loved me for the first time, he decided to at the top of the John Hancock building while we were in the city at Christmastime.
I really do love this city.
---
2020 note- I got the chance to take Ellie's picture on a boat tour on Lake Michigan years later looking at the John Hancock.
It is one of my most favorite pictures.  
When it's not this picture I took of Anna (for her senior pictures) looking at a Wendella Boat Tour which "happened to be" sailing by on the Chicago River right as we took this picture. Which also happens to be the boat company Mike's dad used to work for when he was in high school. (I don't believe in coincidences)
I really do love this city.
---
So the whole reason I decided to write this post was the fact that although Mike has lived here his entire life, he had never been to Marshall Field's on State Street.
I refuse to call it Macy's.
I couldn't believe he had lived here for 40 years and had never been here before.
It is such a magical place at Christmas with the window displays, the big tree, the Walnut Room, so I was excited to share it with him.
Plus there is just an energy in a department store when you are there during the holidays, especially big-city department stores. You feel like you are in the presence of magic, the hustle, and bustle of when department stores used to be grand.
Honestly, when I've been here in summer it still feels like it's the holidays even when it isn't the holidays if that makes any sense.
Even if it is Macy's.
If you've never been, you definitely need to go any time of the year. There is just nothing like an old fashioned city department store.
2020 note- I found an old blog called The Department Store Museum and it is a fun find. It has all sorts of old department stores in there to peek at. 
We wanted to eat at The Walnut Room but there was a wait, so they gave us a beeper like the kind you get at Applebee's. We were told it may be up to two hours to wait for a table but the lady said it is usually never that long.
But see, we had left our suburban home HOURS before because of traffic and a babysitter, so we were HANGRY. We ended up exploring the department store, holding hands, giggling like children who were out late on a school night, and then eventually admitted defeat and turned in our beepers.
We ended up eating at a Corner Bakery under the el on Wabash and were treated to an impromptu show when two of the employees were fighting over the fact that Eddie Murphy could not POSSIBLY be the white guy in the barbershop in Coming To America and we decided that this was way better than The Walnut Room.
Also, he was.
The white guy.
There is an entire Reddit feed dedicated to it.
We decided to do the tourist thing and waited in line for fresh Garrett's Popcorn.
We waited for 45 minutes, in 20-degree weather and it was completely worth it.
We also talked to some lovely tourists while waiting in line and they got the biggest kick that we were waiting in line with them because we lived here. But then they tasted the popcorn and understood why we waited in line for 45 minutes in 20-degree weather.
It's that good. 
It leads me to believe that sometimes it's a good thing to be a tourist in your own city. It was so much fun to do these things and it cost us a fraction of what it would travel to another big city in the Midwest.
Our trip to the city for an evening cost us less than $40.00.
All in all, it was a wonderfully romantic evening and so much fun to be in the city at Christmas.
Some other highlights of our night out included:
The horse and carriage filled with a family who yelled out "Merry Christmas!" as we all walked down Michigan Avenue.
Has anybody ever seen the movie "Funny Farm" when they try to make the village look more appealing?
It felt exactly like that. Like the city of Chicago paid for us to have the experience.
---
The guy driving up and down the Magnificent Mile in his '78 Vega with a megaphone yelling "Happy Hanukkah!". I SWEAR I am not making this up.
The elevator full of people on the 7th floor of Marshall Fields who couldn't get off the 7th floor and the door kept beeping and opening and there they were!
I bet they are still there.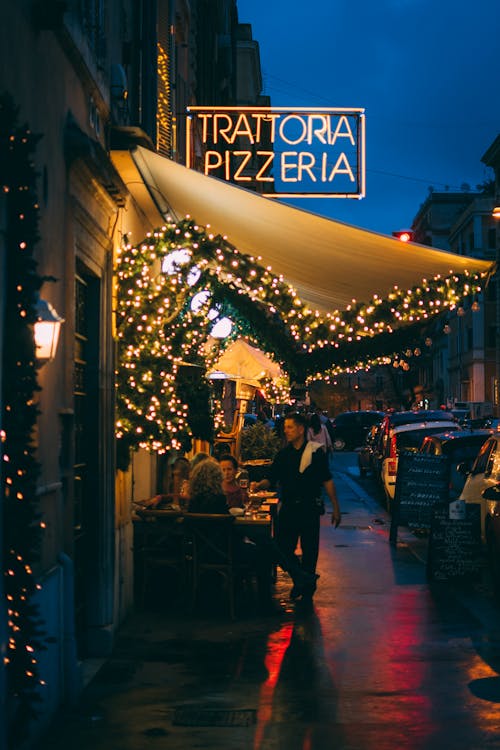 The lights in the trees on Michigan Avenue, swaying in the December breeze, and the holiday music coming out onto the streets from all the stores.
Holding the hand of my best friend while reminiscing about our Chicago past. 🙂
---