This post was from my first year of blogging. Ellie was only two years old and Annie was only ten years old. We got a babysitter and felt so fancy heading into Chicago on a Friday night. 
Little big things. 
---
First published December 5, 2010
---
Mike and I went into the city for a date night last night, and it was a lot of fun. Chicago is magical during the holidays. We are so fortunate to live close enough to the largest city in the Midwest that we can just pop in and out rather than making a trip out of it, and we never take that for granted.
---
Mike's parents both grew up on Chicago's north side. Many years ago, his grandfather's family immigrated to the city from Ireland. All of the men on his father's side of the family became Chicago cops. That is, until his father defied convention by becoming a police officer in the Chicago suburbs. Then Mike went and completely ruined the tradition by going into sales.
The River Shannon, a pub in the Lincoln Park neighborhood, has Mike's grandfather's picture up on the wall, along with several other Chicago police officers from the time. It's a little establishment with a lot of personality that even allows you to bring your pets inside. On Cubs game days, they also offer fans free hot dogs. Let's go, White Sox.
So, there is that Chicago history. Then there's our personal history with Chicago.
---
We met at the Taste Of Chicago at Grant Park in the summer of 1993. We went on our first date a few months later, at a White Sox game. We casually dated for six weeks and then stopped talking. Then we became friends for several years after that. 
Then I married someone else. When I was separated from my husband, we began dating. 
He chose to tell me he loved me for the first time at the top of the John Hancock building while we were in the city at Christmastime. 
I really love this city.
---
2020 note- I got the chance to take Ellie's picture on a boat tour on Lake Michigan years later looking at the John Hancock.
It is one of my most favorite pictures.  
When it's not this picture I took of Anna (for her senior pictures) looking at a Wendella Boat Tour which "happened to be" sailing by on the Chicago River right as we took this picture. Which also happens to be the boat company Mike's dad used to work for when he was in high school. (I don't believe in coincidences)
I really love this city.
---
So the whole reason I decided to write this post was because Mike had never been to Marshall Field's on State Street, despite living here his entire life. 
I refuse to call it Macy's.
It is such a magical place at Christmas, with the window displays, the gigantic tree, and the Walnut Room, that I couldn't wait to share it with him.
Plus, there is an energy in department stores during the holidays, especially in big-city department stores. If you've never been, you should definitely go at any time of year. There is just nothing like an old fashioned city department store.
2020 note- I found an old blog called The Department Store Museum and it is a fun find. It has all sorts of old department stores in there to peek at. 
We intended to eat at The Walnut Room, but there was a wait, so they handed us a beeper. We were told the wait could be up to two hours, but the woman said it is usually never that long.
But you see, we had left our suburban house HOURS earlier due to rush hour traffic and a babysitter, so we were really hungry. We ended up exploring the department store, holding hands, and giggling like children out late on a school night, before admitting defeat and handing in our beepers.
We ended up eating at a Corner Bakery on Wabash under the el and were treated to an impromptu show when two of the employees got into an argument over the fact that Eddie Murphy could not POSSIBLY be the white guy in the barbershop scene from Coming To America, and we decided that this was far superior to The Walnut Room.
Also, he was.
The white guy.
There is an entire Reddit feed dedicated to it.
We decided to do the tourist thing after dinner and stand in line for fresh Garrett's Popcorn. We waited 45 minutes in 20-degree temperatures, but it was well worth it. We also chatted with some lovely tourists while waiting in line, and they got the biggest kick that we were waiting in line with them because we lived here. But then they tasted the popcorn and realized why we had waited 45 minutes in 20-degree temperatures.
It's that good. 
Other highlights of our night out included:
As we walked down Michigan Avenue, a horse and carriage filled with a family yelled out "Merry Christmas!" Have you seen the movie "Funny Farm," where they try to make the village look more appealing? That's exactly how it felt. Cue the horse and carriage!
---
Then there was the guy in his '78 Vega driving up and down Michigan Avenue with a megaphone shouting "Happy Hanukkah!" I swear to God, I'm not making this up.
There was an elevator on the 7th floor of Marshall Fields full of people who couldn't get off the 7th floor, and the door kept beeping and opening, and there they were! It was quite comical. 
I wonder if they're still there? Perhaps someone should go check on them?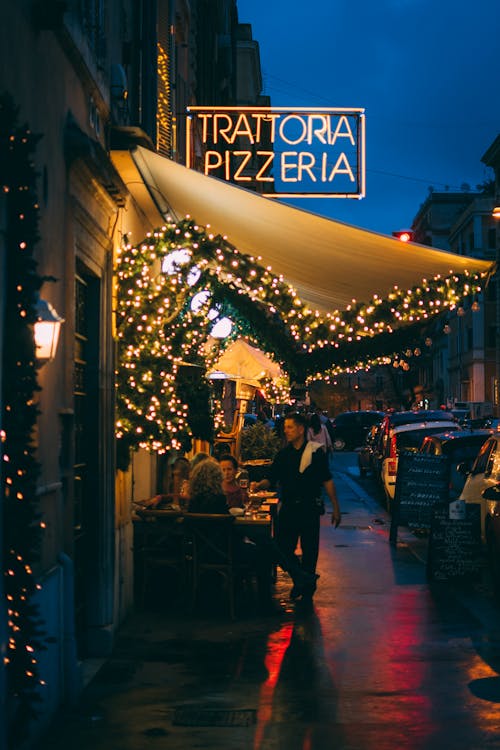 And then there were the lights in the trees blowing in the December breeze, and the music flowing out onto the streets from all the businesses. My mittened hand is linked with my best friend's. We talk about our past and how much of it is influenced by Chicago.  
I really love this city.
---