In the spirit of winter homesteading or home tending, I have been nesting into our home this winter like no winter before.
In fact, I haven't really nested in my home this much since my little birdies were much younger.
I have to say that homeschooling Ella has made me appreciate our home more because I am in it more.
That's not to say that we never leave the house, but since schooling her within the walls of this home has led us to take our time each day, stay inside a little longer, and just linger, I am enjoying our home on levels that I had never before.
When my girls were small, we didn't venture out as much in the winter because let's face it, winter in the Midwest sucks. There has always been plenty of fun things to entertain them inside of their home, and honestly, my girls are very much homebodies at their core.
I'd like to take a little credit creating a home that my family doesn't care to leave but I think it might have something more to do with cozy beds, television streaming, and not having to put outside pants on but let me live in this delicious oblivion, okay?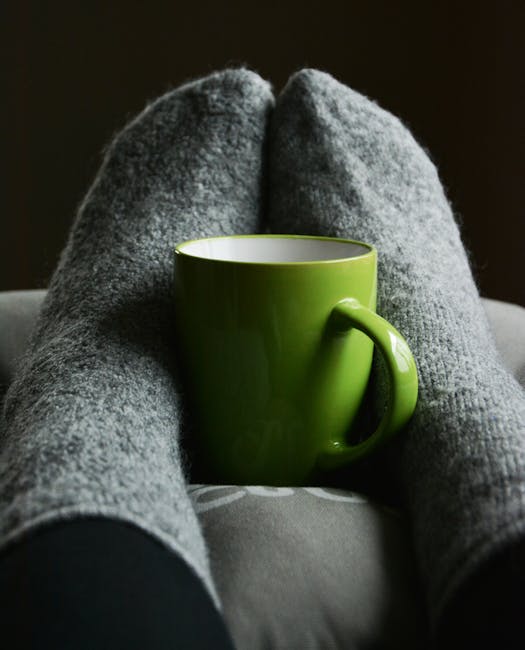 I have wanted to do little projects around my home since fall but with schooling Ella five days a week on top of the regular stuff that needs to happen around here, it didn't get done.
But one December day, I got a wild idea while (insert irony) watching television.
I want to move the sofa facing the fireplace and not the television. 
This didn't go over quite well with the masculine part of my family and no, that isn't our dog.
I have never liked the idea of facing furniture towards the TV and I have no idea why because I love to watch TV as much as the rest of my family.
But it was during the time of year that we MOST watch TV that I decided to move the one piece of furniture our asses sit on to watch TV facing AWAY FROM the TV.
Toward the fireplace to be clear.
Back in November, I pinned this: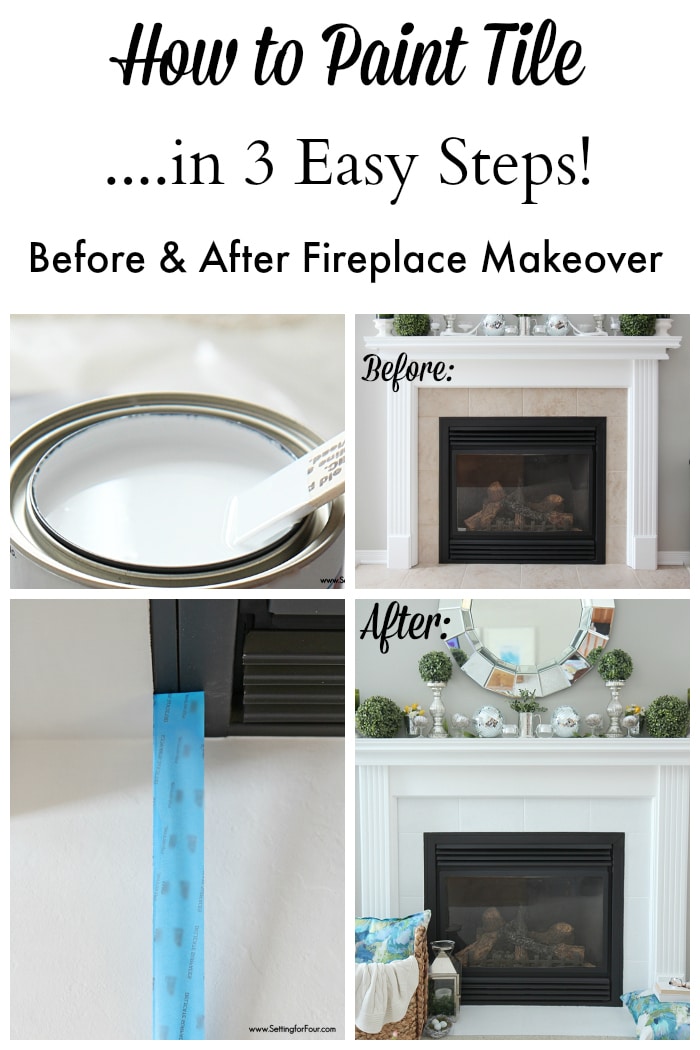 The blogger over at Setting for Four had a tile inset on her fireplace that looked very similar to mine and she painted it white.
When we were looking at this house during the spring of 2005, it took two walkthroughs before we realized there was a fireplace in our soon to be family room.
It doesn't show up on this terrible photo but the wall was painted the exact color of the tile around the fireplace: mauve.
And now that I am looking at this, I realize they even had the couch facing the fireplace!
Smart. People.
Anyhoo, I have had a hate/hate relationship with the tile that surrounds the fireplace.
In that, I hate the color of it.
But I never thought of painting it because my brain doesn't think like that.
I thought about slapping wood up there and creating a much cooler surround but never painting it because that is just too easy.
Isn't it?
I ordered the paint using her affiliate link (hey, bloggers gotta stick together) one late December day and decided I would make this a January project.
In If You Give Kari a Painting Project fashion said to the rhythmic timing of If You Give a Pig a Pancake, I couldn't just paint the tile surround of the fireplace.
I also needed to create a focal wall with a different color as well.
All because this blogger made me do it:
This chick (also her blog name) has been the bane of my existence since 2011.
Long story. Buy the book.
Let's just say she has been instigating projects in my home (without her knowing) for the past eight years.
But that color. THAT COLOR. Above her fireplace. ABOVE HER FIREPLACE.
I needed it.
Even though just 10 months ago, I decided to paint our family room a color five shades lighter than what was on before, I must have this dark color.
It's called Cyberspace by Sherwin Williams.
So during my headache spiral, I decided that paint was going to be my salvation.
I also decided to make it a teachable moment in homeschool by bringing Ella with me to Sherwin Williams for paint swatches.
Mom, you mean all of these paint swatches are…….free? You just take them? 
Blink, blink.
I had been working so hard teaching her about things like multiplying triple digits, our solar system, social awareness, civil rights, and racial injustice that I couldn't believe I hadn't taught her about things like painting on the cheap, rearranging furniture, and spending no money to redecorate.
After we took our free swatches from the Sherwin Williams store, we headed straight to Home Depot on the way to a homeschool event and got our little paint samples in two different colors because I was deciding between TWO colors now.
KEEP UP.
These samples were $3.98 each but honestly, they didn't really help with my cause because they really were true to the swatch. Once I put them both on the wall, I knew I still wanted the darker color my blog nemesis (said jokingly, I swear) used on her fireplace, Cyberspace.
The other color is Distance by Sherwin Williams, in case you love it.
It was a little too light blue for me in this room.
But before I get ahead of myself yet again, I began painting the tile surround white. Or I should say, we began painting.
This doll wanted to help me and let me just say that the memory of her spending an hour on a Saturday morning giving this surround a second coat while singing the Hamilton soundtrack at the top of her lungs with earbuds in will live with me for the rest of my days. Every time I look at this fireplace, I will think of it.
So after one coat, my helper was off to talk to one of her besties on the phone and that was exactly the moment I decided to start painting both the focal wall AND the third coat of the surround.
I say this because if she was still helping, she would have talked me out of it because she is sensible like that.
I, however, am not.
Side note- if you do decide to get a sample of paint, here is exactly the amount you will have to paint. I took this picture so that if you had a really small area or a touch up to do, get the sample size instead of a quart.
After a small trip to Home Depot to get a quart of paint to finish the wall, off I went.
I did have a moment of there is no turning back because that is dark.
Would it make this room smaller?
Am I doing the exact wrong thing for my winter blues?
Welp, too late now.
I waited until this point to send a picture to Anna because she is my reality check when it comes to well, anything.
I knew she would have no problem telling me her exact thoughts.
So when she said she LOVED it, I felt like I did the right thing.
I wasn't ready to send it to Mike who was at work when I decided to do this.
Mind you, he had no idea I was planning on doing it on this day.
He knew of some sort of change that might be happening but being the smart man he is, he offered no objections.
I would send him a picture when it's all done and pretty.
Yeah. That's what I will do.
A few hours later, and after moving the sofa facing the fireplace, I sent him this picture instead:
His response?
Wow, how are we going to watch TV?
Blink blink.
Now, I do realize that we could mount the television above the fireplace and we may end up doing that.
But then it will cover most of that delicious paint color.
That surround, by the way, took four coats of paint.
Holy hell.
And it could possibly use another one but I am taking a break.
Forever.
I brought in that yellow chest from the dining room and love it so much in here.
I, however, don't love that I created a Go Blue situation in my Go Buckeyes family room but it softened the blow of the sofa facing the fireplace for my Michigan-fan husband.
Marriage is about compromises, people.
It has become my happy place room.
The day after I painted, Mike and I laid on the couch binge-watching a show and we were like, "this is so great".
It's like we appreciated this room so much more. More than we had in the previous 13.5 years we have lived here.
Rediscovering a room for the first time and truly appreciating it during a time of year when you really needed it?
Priceless.
And all it took was a little paint.
Okay, a lot of paint. but for real ONLY paint.
It's a totally different room!
You can do this in your home too and you don't need a design degree or a bunch of money either.
Paint AND shopping from your home are the best for changing a space.
Don't know what shopping from your home is?
Essentially, taking stuff from other rooms and moving it around.
It's fun. Try it!
I bought nothing other than paint to recreate my family room!
Here is the paint I used:
You can order this paint and primer in one from Amazon (affiliate link) or your local home improvement store.
I used that exact paint/primer for the tile surround on my fireplace.
As far as focal wall paint, I used Cyberspace by Sherwin Williams color paint chip but Glidden actual paint in a semi-gloss from Home Depot.
Looking for more on-the-cheap home improvements? Head here for my favorites. 
This page includes affiliate links as I am a part of the Amazon affiliate program.