The one thing I miss about Ella being away from public school is a traditional art class. She is a fantastic artist. I'm aware that there are art classes available outside of our home, and we've tried some of them. One she really loved ended up going out of business, the other one was too expensive, another too far away from our house to go on a regular basis, and then COVID hit.
---
So throughout the last two years, I've attempted to make do with little things here and there, but it hasn't always been easy. Fortunately, her artistic side hasn't suffered, but I have learned over the last two years that if you want to be an artist, an artist you will be.
---
Ella has developed into this vivacious, almost-teenager (not a fan of the word "tween") who loves drawing, painting, cosplay, anime, and everything artistic. So this summer, I was looking for activities to keep her engaged artistically for homeschool this fall, and that meant looking for classes in unusual places, like Coursera.
---
Recently, I saw an apartment on Instagram belonging to a supermodel. I don't even know how I found it because I don't follow her account, but when I saw this sign on the wall in her house, I knew immediately I wanted to make it: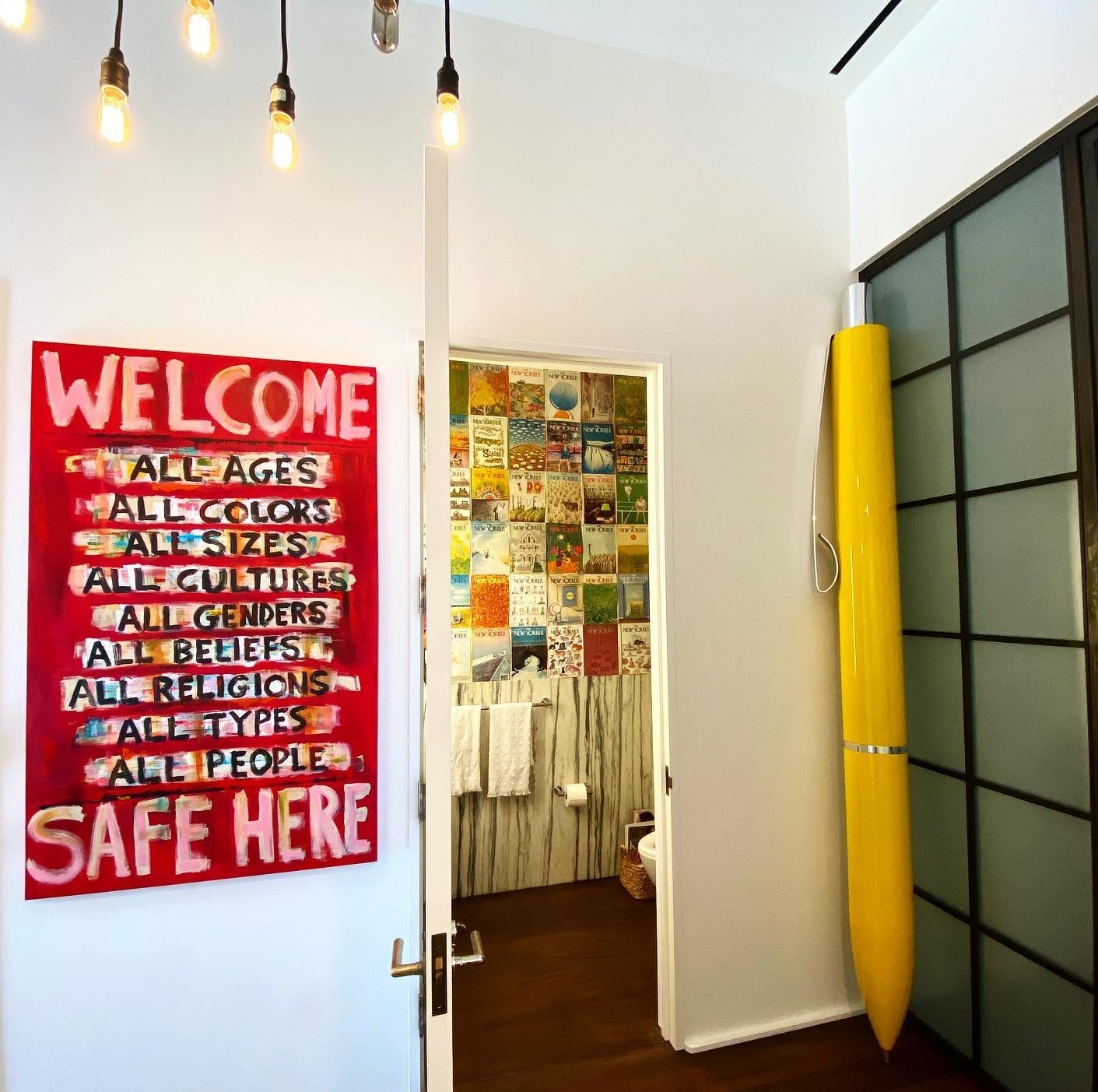 ---
Eamon Harrington created the artwork, and when I looked it up, it was $1,500. But I think I can make it for a little less.
I decided it would make a great homeschool art project.
The inspiration piece is larger than we intended (36 x 60) to make, but I knew we could still make a cool statement piece for our home and loved that we had some inspiration from a genuine artist. Thanks, Eamon! Don't sue us!
But I am crediting Eamon Harrington for the design, so be clear that we in no way came up with this idea.
THIS WAS NOT OUR IDEA. EAMON ALL THE WAY!
If you want to pay $1,500 for an original piece of art, please support him. I am all for artistic interpretation and supporting artists, so please don't think we aren't doing so by saying we are doing this for less.
---
But here's the thing: I had no idea how I was going to tackle this because I am neither an artist nor an art instructor. So, one day, I sent my friend Kristen a picture of this because I knew she would love this (she did), and I said to her, essentially: S.O.S. I don't know how to proceed.
She said she'd get me the supplies I needed from the craft store and I all had to do was Venmo her, and then one lovely Friday afternoon we sat on her patio and she social distance taught me how to be an art teacher while we sipped Starbucks that SHE treated me to.
Ever have a friend like that?
Sigh.
Soul family, indeed.
That day, I went home with a belly full of chai latte, a head full of artwork and ideas, and soul full of friendship. That day will carry me all the way until November.
Ella and I took on this art project during our second week of homeschooling.
---
We started with a blank canvas that you can get at any craft store, but Kristen had one in her craft room already, so ours is an 8 x10.
So you are going to take white acrylic paint and cover the entire surface of your white canvas with white paint (I know, trust me).
Then, while the white paint is still wet, take a bunch of different color acrylic paints and do brush strokes in different cross patterns on the canvas, blotting in a bowl of water in between strokes.
This was so relaxing for the week of tension that was going on in our world, let me tell you. I feel like I want to do an art project weekly from now on.
It will look like this when you are done or during it. The beauty of this project is that it is YOUR project, so do however many brush strokes you would like. After you are done, let it dry for a couple of hours or overnight.
The next day, we added painter's tape (or any type of larger tape) in large enough strips to write the words on top of your painting. You are going to need nine pieces of tape.
After you are done laying the tape over the canvas in the middle, you are going to paint over the tape with red paint. The entire canvas is getting painted, so lay down a tarp under your canvas, or if it's a nice day, do it in the yard.
Then let that dry for a good 24 hours.
When you pull the tape? Magic…
I love art.
Now the beautiful part.
We talked about inclusivity and how everyone deserves to feel safe.
We talked about being a female and her concerns about it in the world and on social media.
About feeling insignificant as a 12-year-old in a vast universe.
We talked about our friends from other cultures and how they might feel when they visit places where they may not be welcomed.
We talked about our friends who are different colors and how they might feel when they go to areas where they might not be welcomed.
We added WELCOME at the top in a salmon color and SAFE HERE at the bottom in the same salmon color, similar to Eamon's inspiration piece.
It turned out even better than we imagined.
I told Ella that I think it's my favorite thing on our wall, beside the pictures of our family.
I figured someone out there would love to make this in their home this year for homeschool or even just a weekend project.
I'm so glad we made this.
As I stated on my Instagram page when I first shared it:
"This is our home. It's not only a safe place to land for our own family, but for those around us as well. You will never be judged here. I will, however, share this on the blog because so many of you are homeschooling now and I think a lot of you may love to have this inside of your home. Because we all just want to feel safe and loved for who we are."