A few years ago, I wrote a post titled I Hate Painting Furniture. It was a good post, actually one of my favorites which is why I reblogged it this past Friday.
If you didn't get a chance to read it, maybe go read it first then come back and read this post.
Like demented blogging homework.
So my nightstands used to look like this:
They were ugly and I couldn't even rationalize the oh, it's in a room where we keep our eyes shut most of the time mentality any longer.
So I painted them white.
And if you can imagine, I made them even worse in the process.
Only I could make a DIY project worse by trying to improve it.
But I was exhausted from the creative process of painting them and let them sit all scuffed, broken drawers (by the way, EXCELLENT band name) and shitty-looking for another three years.
Then we decided to paint our bedroom white back in February because the pukish brown tan color originally in there was too dark, so we went with white paint to make it brighter.
Only wait for it the room was TOO white after we were done.
I mean, it looks 100 percent better in this room but it's a lot of white.
There is an inappropriate joke about Caucasians in there somewhere.
On a whim, I decided that I needed to do something about those stupid nightstands. Those stupid broke-ass white nightstands.
At first, I thought I would just go to IKEA and drop 50 bucks on two nightstands which is totally feasible.
But then I realized that finding nightstands with drawers for that price is kind of hard and we do need storage, so those stupid broke ass white nightstands are important to this room.
Which meant, I was going to have to paint them. Again.
AWW MAN, I HATE PAINTING FURNITURE.
Then I had an epiphany; I could spray paint the nightstands. I've spray painted lots of furniture in my home before, why did I never think to do that with these nightstands?
This piece is what I had in mind when I was thinking about spray painting our nightstands:
Back in 2012, I had so much more energy. I mean, I was almost eight years younger and eight years makes a huge difference as you age. Let's be clear, I am not in the nursing home yet but eight years younger knees could do things that eight years older knees only dream of.
There's another amazing joke there that I won't touch because my mom reads this blog.
I painted that old record cabinet and turned it from a dark hunter green (can you say the 90s?) to the vision in yellow that it is now with only spray paint.
Eight years later, it's still going strong so that inspired me to do it again. Spray paint can transform and it is so much easier to do than using a paintbrush.
Hell, I even redid an entire family room with six cans of spray paint.
Did I mention how much energy I used to have?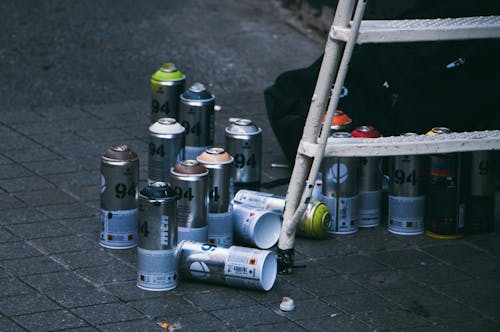 So I headed to Home Depot and got me some green spray paint, Eden Green by Rustoleum, to be exact.
I wanted green because green is my favorite color and since I share this room with a boy (my husband), I didn't want it to look too girly.
Green is a great color because it can be both feminine and masculine and also, I feel like green brings the outside in.
Especially in winter when everything outside is dead and white.
Insert another inappropriate Caucasian joke.
It looks so much better and strokes my ego so much more than my shitbox white nightstands did.
I mean, think about it. Every time I went to bed, I would see my painting failure. Like a reminder that I can't be trusted doing any form of DIY. Or anything in general. That's a harsh reality to go to sleep to.
But now?
I am reminded that I can do things to make our house more of a home.
That in the midst of sadness, I created something that made our nest a little fluffier.
I ended up using three cans of paint total for two nightstands for a total cost of under $10 to completely transform these babies. I also decided to paint the knobs as well because they don't easily remove from these shitbox pieces and it actually turned out pretty nice.
And now? I don't hate painting furniture anymore.
Kind of.
Ish.