February can be challenging for a variety of reasons, but for me, it's because I'm over winter. Not that I was ever under winter. (Thanks, Ross)
Winter begins in November here, and appears to be the longest season as well. At least that's how it seems. Most likely due to this never-ending pandemic and the fact that I've been sick twice this year.
I couldn't motivate myself to make a phone call for an appointment for over a week.
Okay, two weeks.
So in February, I started courting myself. Wooing me. In the midst of humdrum, mundane life issues, and appointments, lessons, finding a tutor, and doing a multitude of things for others.
I thought I'd share some of the things I've been doing to woo myself with. Maybe you could woo yourself with them as well.
I am not getting paid to tell you about anything here.
I bought one for Ella and one for myself at Target. I hadn't been wearing a bra in public in a long time, so it's as if I was doing everyone a solid by purchasing one, as well as courting myself. This bra is the best bra I've owned in years, and it's only $14.
---
I love all of their products, but their whipped soap scrubs make my shower seem like a spa.
---
I purchased this for myself after Christmas with holiday money. I use this on a daily basis and have saved a lot of money by not going to Starbucks. I'm a little irritated that the price increased by $10, but if you like iced coffee, trust me when I say it's worth it. I feel like I'm my own barista, creating my own iced coffee's in the coolest coffee shop in town. I mean, look at how content I am up there! 😉
Please don't tell me to make it from scratch, I'm not that girl.
---
Solfeggio frequencies or binaural beats
I listen to these on a daily basis, either during the day while I work around the house or night when sleeping. I was told it helps you sleep, but I've discovered that whether I listen to them during the day or at night, it makes me feel better. Type in the above in Apple or Spotify search bars, and a multitude of playlists will appear.
I also enjoy listening to low fidelity music (or lofi ) while writing or doing housework. Over the last year, it's become my comfort music. Here are some articles that can help you learn more about it:
What is Lo-Fi music? | Holland & Barrett
Struggling to Tame Your Stress and Concentrate? Science Suggests This Type of Music
---
Cold showers
I can't take full-on cold showers, and I can't say that if it's beneficial for you, but I've started finishing my showers with a whole minute or two under cool water, and it feels amazing. Going from warm water to cold is quite rejuvenating, and I've also noticed that my skin is glowing now.
---
Lemon shots
When I was sick with my second "cold/covid" in six weeks, I saw a TikTok video that advised drinking shots of fresh lemon to relieve congestion. I tried this, and my congestion was gone within a day. Since then, I've been taking lemon shots daily.
---
I almost don't want to tell you about these butter leggings that Oprah introduced me to (for fear they sell out). But I previously shared my butter bra up there, and feel like you need a pair of leggings to match. These even have pockets.
---
Kitchen reading chair
I recently added a reading chair to my kitchen, and it has completely transformed my February.
Because of the spectacular sunlight I get in there in the afternoon, my friend Rebecca mentioned one day that my kitchen would be a fantastic spot to to read a book or do my soul homework. I agreed, but I felt it would be too cramped with the kitchen table in there.
She suggested removing the table leaf and two kitchen chairs, and there would be plenty of space. I mean, we have a dining room table that is adequate for eating at. Why hadn't I considered this before?
Because I was living in my house as I imagined it should be. Not how I truly lived in it.
Rebecca had a chair in her basement that she never used and asked if we wanted it for our kitchen, which is now our kitchen/reading room.
Since then, I've been sitting in here every day, and it's become my favorite area in our house.
Please don't think I'm boasting. I'm only stating that you may do something similar because, as you can see, there are no rules. Incorporate a reading chair into your kitchen. Put a snack bar into your bedroom. Life it short, there are no rules.
---
We purchased this feeder specifically for cardinals. To be clear, we already have a window bird feeder on our dining room window that has been there since September. Our backyard has been transformed into a scene from the film The Birds.
I am happy about this.
I do feel sorry for our neighbors since the birds come from all directions. At times, I wonder if the birds were sent as a gift from our precious Joy. If you don't know who she is, you can learn more about her here.
But, alas, no cardinals have visited our yard since last July, which made me kind of sad. Then, as I was heading out to my friend's car last week, I heard a cardinal. It was a wonderful surprise on a dreary February day. But since I heard A cardinal, I made the decision that I must feed ALL THE cardinals.
According to my mom, I needed to get them special food. Then I went to Amazon, where people in the reviews advised to acquire a specific cardinal feeder.
Very similar to giving a mouse a pancake, only in this case, the mouse was a cardinal and the pancake was sunflower and peanuts.
Every day since, we've had multiple cardinals. 🙂
---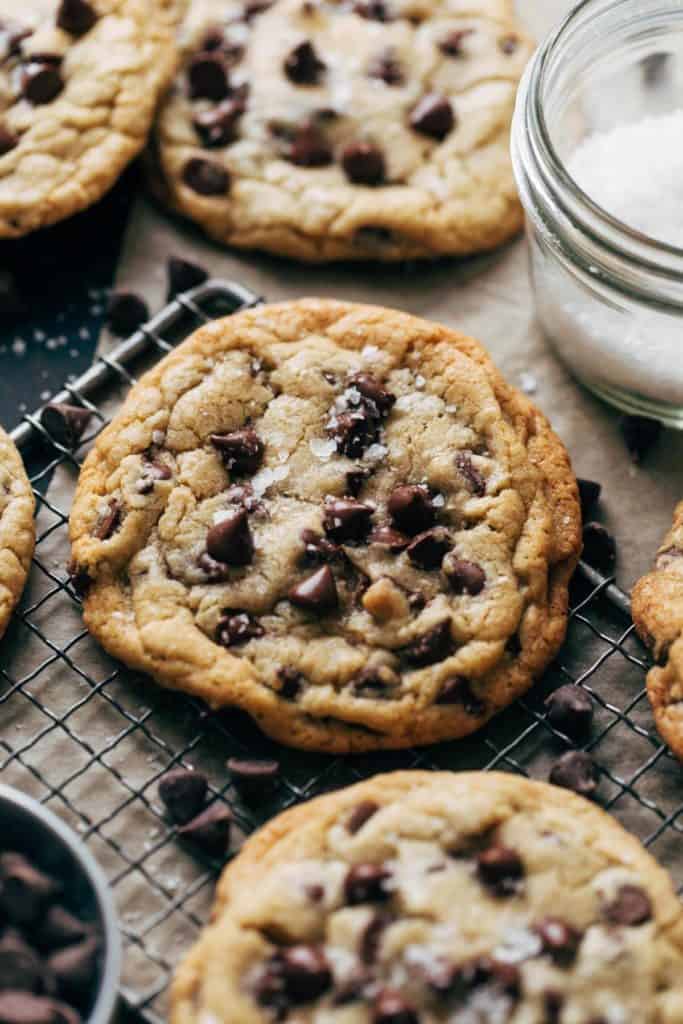 A new chocolate chip cookie recipe
This recipe differs from our standard chocolate chip cookie recipe. After the cookies are finished baking, you add sea salt and a few more chocolate chips on the top. They were divine. Make them today; you won't regret it.
---
Rage room
I saw a TikTok video of a woman pounding the hell out of a television and thought to myself, "Where can I sign up?" It's been a difficult two years for a variety of reasons, but I felt this was just the therapy we needed as a family.
Even if you're skeptical, trust the process.
Tears streamed down my face as I bashed in an old washing machine and hurled plates against the wall while Don't You Forget About Me blared in the background.
I don't recommend this as a replacement for therapy, but if you don't have health insurance, you might want to give it a try.
---
Disco ball chandelier
My friend Kristen and I were making disco ball chandelier's one Friday afternoon when we both commented, "Why don't we do crafts more often?" The mindfulness of creating something with no purpose other than to make us happy was really healing. I recommend it for everyone.
This was a wonderful website for finding crafts that aren't at all practical yet are quite beneficial: Shitty Craft Club.
---
Don't expect others to do the nice things for you. Do them for yourself.
What lovely things have you done recently for yourself?