I mentioned to my friend last week that I am officially in menopause on September 23rd and she was surprised because she thought I was already in it and I was like, oh no, no, no, noo, that is all the nonsense leading up to it.
The appetizers before the meal.
The preview before the movie.
The calm before the storm, but in this case, the calm is actually the storm.
She had no idea what menopause was, and she isn't alone, which is why I am writing this book. I mean, it isn't the only reason but one of many because when I tell this to women who haven't yet experienced it, most don't know what the difference between perimenopause and actual menopause is.
You will after you read my book.
I wrote somewhere about feeling like I needed to have a party on the day I enter menopause, September 23rd.
But then I think I may have deleted it because I was in perimenopause and I probably thought of something better but I forget, because of the foggy brain (one of many symptoms).
Welcome to my menopause, I haven't been bleeding from my uterus in 365 days, let's eat some cake.
I can actually hear my mom and dad cringing at that sentence.
Sorry, I am an embarrassment lately. Blame it on the menopause. That might be my new slogan.
---
I fell in love with Lana Del Rey this year and this song and because it just fills me with so much menopausal joy; I have been listening to it over and over, like a menopausal teenager which makes no sense at all. Even if you don't listen to the lyrics or don't connect with them, just let the music run all over you like melodic waters.
I have loved music my entire life, and I have learned that to truly appreciate music it has to have you. Don't read too much into it but if you can connect with lyrics, man KISMET.
The lyrics to the song, Norman F*****g Rockwell, specifically pertaining to a lover but the more I listened to the song over and over and over (remember, menopausal teenager), they could pertain to menopause too.
Well, at least my perspective of menopause.
Norman Rockwell, for those of you who don't know, was a painter and illustrator who portrayed the American way of life most notably on the covers of magazines such as The Saturday Evening Post.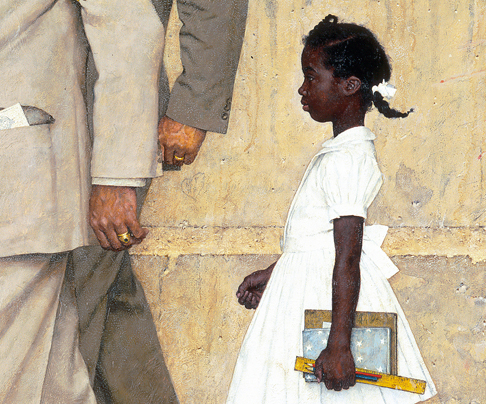 So when I heard the song, Norman F*****g Rockwell, I laughed at the title because it reminded me initially of my blog. It looks like the portrait of something normal when you hold it from afar but once you pull in closer to the details and really read it; you see that it really isn't normal at all.
I couldn't think of a better theme song, to sum up the past five years of my life.
So listen along to the song over and over as you read along to my menopause post if you'd like; kind of like I have been for the past week while writing it.
---
"goddamn, man child you f*****d me so good that I almost said I love you"
"you're fun and you're wild"
.
"but you don't know half of the shit you put me through"
"your poetry is bad and you blame the news
"but I can't change that and I can't change your mood"
---
The change in me at this point is noticeable only to me because only I know what was happening on the inside.
I began perimenopause early, as you will learn in the book.
Then I noticed I wasn't sharing pictures of myself anymore.
Between January 2016 and January 2017, the only pictures of me I could find on my blog are this one:
Perimenopause is an asshole.
Because it makes you think you are ugly, fat, stupid, mean, horrible, useless, invisible.
It fills you with rage, depression, anxiety on top of anxiety, despair.
It lies to you.
To those of you who will eventually enter it, do not listen to it.
"'cause you're just a man"
"it's just what you do"
"your head in your hands…."
"as you color me blue……"
"yeah, you're just a man……"
"all through and through…"
"your head in your hands…"
"as you color me blue…"
"blue, blue, blue…"
---
To have my daughters have to witness me going through these changes while at home was the cruelest part of all.
I still curse the sky every day for wasted days and nights to pain and depression and anxiety.
I wrote this book for them.
As an apology, but mostly so they know that they aren't alone; for when they someday reach this point, they don't feel like they are defective.
---
"'cause you're just a man"
"it's just what you do"
"your head in your hands"
"as you color me blue"
.
Over the past five years, I have watched my body morph drastically from one extreme to another repeatedly. I feel as though my menopause had me rather than the other way around.
I found this quote last week while I was writing this post, and we know how I don't believe in coincidences. I was listening to dreamy Lana Del Rey songs and crying and reminiscing about the past five years. I was mourning my period a little because it felt like the right thing to do and I saw this quote:
The timing of this pandemic, the end of my perimenopause, the writing of my book, everything feels so universal even though it really shouldn't. I mean, the world didn't stop for me to get rid of my period.
Or did it?
Do I have that kind of power?
I am kidding, but I am laughing if you ever thought for a second that I did.
My husband has been riding this bumpy journey alongside me this entire time and it hasn't been easy at all, but this is what marriage is all about, isn't it?
He didn't have to be here, but real men sign up for this when they take those vows. But let's be clear, he didn't have to actually do the work, I did, and he knows that he got the easier end of this because he witnessed what I went through firsthand.
I don't know what I would do without him.
I kind of think he feels the same way about me.
Not all of you will go through this.
Some women never experience this or even to this level but marginalizing this experience for the women who do is insulting.
We need to stop doing that.
The book will be a guidebook; a gentle, loving hug from me to you. It will be a menopause version of What to Expect When You're Expecting.
Expecting to lose your period, that is.
Because if you are female, it may happen to you and chances are, you haven't been prepared for all that will happen.
And there is a lot in store for you.
But you aren't alone.
As a child, I loved rainbows because they were happy and in the 80s rainbows were very popular.
I remember my parents got me a small blow-up rainbow with a white cloud at the end at a local amusement park one summer and it filled me with joy because I wanted it so badly.
I remember when I got home that evening showing it to a couple of neighbor friends and how they made me feel guilty for it because they didn't have one. It tainted the rainbow for me and every time I looked at it; I thought about how I had one and they didn't and maybe that made me spoiled. It felt different and my joy was gone.
Rainbows are back again and when I found that up there last week, the minimalist in me couldn't resist. I am keeping this up all the time as a reminder of the week I finished my period. This time, other people won't make me feel bad about my rainbow.
This is a huge chapter in my life book. Normally, women keep these things kinds of things secret, quiet, don't talk about them.
Our periods are the reason you are here.
And you.
AND YOU TOO.
Yes, I am looking at you.
If it weren't for a period, no one would be here.
Yet, we don't talk about the end.
"yeah you're just a man"
"all through and through"
"your head in your hands"
"as you color me blue"
"blue, blue, blue"
It was through this process I felt so much more connected to my mom, my grandma, my great-grandma, to ancestors I had never met. I thought of all that they may have gone through without the comforts we have now. All the things I am going through now and how they possibly went through them alone, silently. I felt them with me while I was writing this book, looking over my shoulder, telling me to keep going.
I was really careful not to make this book only about pregnancy, or centering on having carried children in this lifetime because not every female wants that to be part of their life experience on Earth or gets to have that experience here on Earth nor has the body parts to have that experience. Going through menopause has nothing to do with that, so I don't want anyone to think that this book is a guide to menopause, but only if you birthed babies.
This brings me to women and how we need to be nicer to each other. Writing this book, researching, thinking about menopause, about what our bodies do, what we go through in our lifetime, made me quite a feminist in this process.
I am not necessarily a fan of labels, but let's just say I have become a huge fan of our gender in the writing of this book and I am rooting for us a little more than I was before writing it. We really need to do a better job of rooting for each other, now more than ever. Why are we not pulling each other up the mountain? Because this is a mountain, let me tell you, and this is no time to be competitive.
---
I love a good quote, as those who know me well realize. Within my home, I have words all over my walls. It's the first thing you will notice when you enter the front door. Words are all over my walls. I love written words more than anything in this world.
So in my book, I wanted to sprinkle quotes throughout, having each chapter begin with a quote from a powerful female I admire. I also wanted to end the book with a quote that sums up my entire five-year perimenopause experience; kind of like a more dramatic "the end", but also from a powerful female who is perfectly imperfect, as we all are.
I ended up choosing Frida Kahlo.
I don't recall learning about Frida Kahlo as a child or even as a teenager. In fact, I didn't thoroughly learn about her until I started homeschooling Ella. But it was while homeschooling that I became so intrigued by her after watching a video about her life. Then I found this quote she had written:
Al final del dia podemos soportar mas de lo que creemos
Translated loosely to mean, "at the end of the day, we can endure much more than we think we can".
Frida Kahlo's life was filled with polio and a bus accident that sent a rod through her abdomen and left her barely alive and with chronic pain, yet she still did her artwork. She went through a divorce, a cheating lover, and three miscarriages, besides all the above, and yet, still kept going. This is not to make her a martyr or to put her on a pedestal. I am sure there were mistakes made on her part, things she did wrong. We all make mistakes, do things we regret. We aren't perfect; we are human at the end of the day. But to say something like, "at the end of the day, we can endure much more than we think we can"? I almost wanted to say that all of her "this" makes my "this" seem trivial, but it doesn't. Everyone has their journey, has their pain to bear, and that is the point, isn't it?
We all have our struggles, don't we? And it isn't fair to put them up against each other. It isn't a competition.
Therefore, I wanted her quote in my book.
My journey was hard, and it meant something.
It wasn't trivial.
And neither is yours.
We are all in this together.
The problem with perimenopause and menopause is that every woman is different and because of that, every woman's perimenopause and menopause are different. So another female who has a completely unique experience, might not know how to offer support because they have no idea or no frame of reference for what you are going through. That is why I said to my gynecologist years ago, "you aren't doing women any favors by downplaying menopause". Because inadvertently, they are making the women who are struggling with it feel as though they can't handle it and to those who aren't having a hard time, as though they are the champions. Perimenopause is hard and we need to stop lying to women about it because we are afraid of giving them the bad news and in doing so when women are entering it, we are throwing them into the proverbial fire. They end up feeling completely uninformed, and then, in turn, depressed, embarrassed, and want to turn inward because they don't want to admit failure. That is completely irresponsible of the medical community. Everyone has their own life path and everyone has their own perspective from where they come. Please stop making people feel bad or shameful for their pain. Stop praising people for handling things quietly, for handling difficult situations without crying, for not showing emotion, for not making a "scene". Because that is how we got into this menopause mess, to begin with, that is how we never found out how hard menopause was in the first place. I am tired of being misunderstood, aren't you?
-A brief excerpt from my book