I told a friend last week that I will enter menopause on September 23rd, and she was astonished because she thought I was already there, and I was like, oh no, no, no, that's all the bullshit building up to it.
The appetizers served before the meal.
The preview watched before the movie.
The calm before the storm, but in this case, the calm is actually the storm.
She had no concept what menopause was, and she's not alone. Most women who haven't yet experienced it don't know the difference between perimenopause and actual menopause.
I didn't realize it until I went through it myself.
Welcome to my menopause. I haven't been bleeding from my uterus in 365 days. I can almost hear my parents cringe at that sentence. I've been an embarrassment recently, blame it on the menopause. That may be my new catchphrase.
---
I fell in love with this song because it fills me with so much menopausal delight, and I have been listening to it over and over, like a menopausal adolescent, which makes no sense. Even if you don't listen to the lyrics or identify with them, simply let the music wash over you like melodic waters.
The lyrics to the song, Norman F*****g Rockwell, are about a lover, but the more I listened to it, the more I realized they could be about menopause too.
At least my take on menopause.
Norman Rockwell, for those of you who don't know, was a painter and artist who primarily depicted the American way of life most notably on the covers of magazines such as The Saturday Evening Post.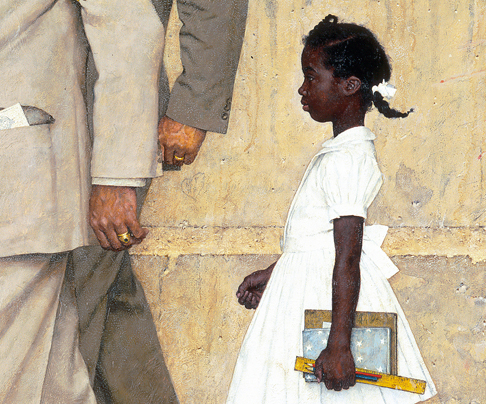 ---
---
When I first heard the song, Norman F*****g Rockwell, I laughed at the title since it reminded me of my blog. It looks like the portrait of something normal when you hold it from afar, but once you pull it in closer to the details and really read it, you realize it isn't.
There isn't a better theme song to sum up the last five years of my life.
So listen along to the song over and over as you read along to my menopause post if you'd like; kind of like I've been doing for the past week while writing it.
---
"goddamn, man child you f*****d me so good that I almost said I love you"

January 2015 beginning of perimenopause-weekly migraines due to my slowly dwindling estrogen.
---
"you're fun and you're wild"
.
---
"but you don't know half of the shit you put me through"
---
"your poetry is bad and you blame the news
"but I can't change that and I can't change your mood"
---
The change in me at this time is only visible to me because only I know what was going on inside.
---
Then I realized I wasn't sharing pictures of myself anymore. Between January 2016 and January 2017, the only image of me that I could find on my blog was this one:
---
Over the last five years, I have seen my body morph dramatically from one extreme to another repeatedly. I feel as though my menopause had me rather than the other way around.
---
"'cause you're just a man"
"it's just what you do"
---
"your head in your hands…."
"as you color me blue……"
"yeah, you're just a man……"
"all through and through…"
---
"your head in your hands…"
"as you color me blue…"
"blue, blue, blue…"
---
The cruelest thing of all was having my daughters watch me going through these changes while they were at home. Every day, I curse the sky for wasting my days and nights to pain, depression, and anxiety. I wrote this book specifically for them.
As an apology, but largely so they know that they aren't alone; so that when they reach this point, they don't feel defective.
---
"'cause you're just a man"
"it's just what you do"
"your head in your hands"
"as you color me blue"
---
Perimenopause is an asshole. It makes you feel unattractive, mean, horrible, useless, and invisible. It instills rage, depression, anxiety on top of more anxiety, and despair.
It deceives you.
To those of you who will eventually enter it, do not listen to it.
I came across this quote while I was writing this post and mourning my period a little, and we all know how I don't believe in coincidences:
---
The timing of this pandemic, the end of my perimenopause, the writing of my book, everything feels so universal even though it really shouldn't. I mean, the world didn't stop for me to get rid of my period.
Or did it?
Do I have that kind of power?
I am kidding, but I am laughing if you ever thought for a second that I did.
---
Not all of you will go through this. I should clarify that not all of you will experience perimenopause to the extent that I experienced perimenopause. I am not attempting to make my perimenopause theatrical or competitive. I would never want anyone to suffer. However, dismissing this experience for the women who do suffer is insulting.
We must stop doing that.
---
The book will serve as a guide; a gentle, caring, hug from me to you. It will be the menopause version of What to Expect When You're Expecting. Expecting to lose your period, that is.
Because if you are female, it will happen to you, and chances are, you're unprepared for anything that will occur.
And there's a lot that will occur.
However, you aren't alone.
You're in fabulous company.
Rainbows were one of my favorite things as a child. They represented joy, color, and play. Rainbows were everywhere in the 1980s. One summer, my parents bought me a miniature blowup rainbow at an amusement park, and it filled me with excitement. I remember staring it at it the whole car ride home.
When I came home that evening, I couldn't wait to show it to my friends. But they made me feel bad about my rainbow. They laughed and mocked it. They were rude and disregarded me. I didn't understand what all it meant at the time, but I do now. It was because they didn't have one.
It tainted the rainbow for me. Every time I looked at it, I thought about how my friends treated me in that moment. I was so happy in the car on the ride home. I couldn't wait to share my happiness with them.
Why do we destroy things for others?
---
Rainbows are "back" again, and when I discovered that up there last week, the minimalist in me couldn't resist. I am keeping this up all the time as a remembrance of the week I finished my period. This time, no one will make me feel guilty about my rainbow.
"yeah you're just a man"
"all through and through"
"your head in your hands"
"as you color me blue"
"blue, blue, blue"
---
The problem with perimenopause and menopause is that every woman is different and because of that, every woman's perimenopause and menopause are different. So another female who has a completely unique experience, might not know how to offer support because they have no idea or no frame of reference for what you are going through. That is why I said to my gynecologist years ago, "you aren't doing women any favors by downplaying menopause". Because inadvertently, they are making the women who are struggling with it feel as though they can't handle it and to those who aren't having a hard time, as though they are the champions. Perimenopause is hard and we need to stop lying to women about it because we are afraid of giving them the bad news and in doing so when women are entering it, we are throwing them into the proverbial fire. They end up feeling completely uninformed, and then, in turn, depressed, embarrassed, and want to turn inward because they don't want to admit failure. That is completely irresponsible of the medical community. Everyone has their own life path and everyone has their own perspective from where they come. Please stop making people feel bad or shameful for their pain. Stop praising people for handling things quietly, for handling difficult situations without crying, for not showing emotion, for not making a "scene". Because that is how we got into this menopause mess, to begin with, that is how we never found out how hard menopause was in the first place. I am tired of being misunderstood, aren't you?
-A brief unedited excerpt from my book